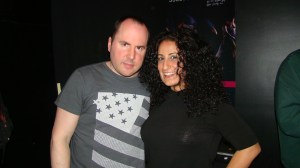 Last Thursday, in an unfinished production space in Dumbo, a group of about 50 people—having traveled to Brooklyn from as far as Australia—gathered to join in everyone's favorite parlor game: bingo. But this wasn't just any bingo game. Presided over by Chemda Khalili, a short, busty woman with a mane of black curls, it kicked off the fifth annual Keith and the Girl week, a series of events that leads up to an annual stand-up performance by Keith Malley, who, along with Ms. Khalili, hosts the daily no-holds-barred comedy podcast Keith and the Girl.
The Transom caught three of this year's sold-out events—whose attendees wanted not just to "party" but to "super party"—most of which were held across the street at White Wave, a well-appointed dance studio. It should come as no surprise that tickets were hard to come by. While many have never heard of Keith and the Girl, the pioneering podcast—which originally broadcast from Ms. Khalili's house in Queens—has spawned some of the most loyal listeners on the planet. (Why else would 130 audience members have gotten Keith and the Girl-themed tattoos or brandings?)
Ask fans about the appeal of the show and two words pop up: "funny" and "real." Onetime lovers, Ms. Khalili and Mr. Malley started their show in 2005 as a forum to talk about current events and their lives, though it soon expanded to include a small circle of friends, a bit like Howard Stern's show and its collection of otherwise-unknown regulars. Later, they would bring on guests, mostly from the comedy world.
"We tell our guests, 'Don't come on and do your bits,'" said Ms. Khalili. "'Talk with us like you're having a regular conversation with your friends.'" And the realness can get very real. Recent guest comedienne Jess Wood reminisced about smoking PCP before school with a gang of kids at age 5, and about regularly witnessing her mother's boyfriend holding a gun to her head. "I would trade my parents for gay parents any day," she said, adding that she has had five abortions, even after trying five different methods of birth control. "My body rejects anything that isn't sperm," she said.
On Saturday afternoon, the Transom attended an unofficial Keith and the Girl brunch at a Bed-Stuy basement apartment christened the "UN of Boobs," where some out-of-town attendees were staying. The occupants were in a rather subdued mood, sprawled across a couch and several chairs, having "super partied" late into the night. As several people picked at their phones, iPads and omelettes, talk drifted to the annual "Hottest Girl Contest," a photo-comparison event held online every fall. "It's another way for them to get more listeners," said a woman who introduced herself as Viola from Boston. "It's like 'Oh, we have pretty people you can look at on the Internet.' We jerk off to each other."
The forums on the show's website are incredibly active, with more than 30,000 participants. And at Keith and the Girl events—both in NYC and beyond—identities can be fluid, with some people preferring to go by their forum handles or other made-up names. "Sparrow" from Atlanta, née Sara, has had her name legally changed to Birdie. "I never feel more myself than when I'm with these people," she said.
Laura, from Washington, D.C., met her husband Russell on the Keith and the Girl cruise in 2008, though she declined to have sex with him on the boat—apparently an unusual decision. Anne, from Frankfurt, Germany, has attended several Keith and the Girl meetups in Europe.
In a phone interview, we asked Ms. Khalili what made listeners so loyal to the show. "It's about community," she said. "People interact on the forums, and they want to meet the people they've encountered online. We give them all kinds of ways to participate."
As for Mr. Malley, we asked him if he thought Keith and the Girl was better than any comedy show on late-night TV. Without hesitation he said, "Yes!"
And apparently more of an aphrodisiac, too.