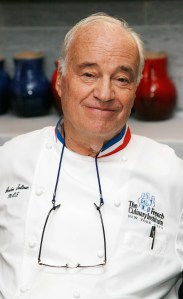 When the Transom greeted Mimi Sheraton, the doyenne of restaurant reviewers—and an old acquaintance—on a recent evening in Soho, she radiated good cheer. And why not?
As part of University Settlement's annual Fine Wine Dinner and Auction, we were about to go on a seven-course trip down memory lane—a one-night-only resurrection of possibly the finest French restaurant this city has ever known, the late and much-lamented Lutèce. Preparing this feast was to be none other than the restaurant's former presiding spirit and culinary guru, André Soltner.
Still, we wondered if Ms. Sheraton's smile would last the evening?
After all, it was Ms. Sheraton, widely feared in New York restaurant circles for her ego-crushing, door-closing write-ups, who gave Lutèce a mildly carping critique in The New York Times in 1977, removing one of its four stars, much to Mr. Soltner's fury. (She reinstated that star after a later visit—but still.)
Fortified by a foaming flute of NV Henriot Blanc de Blancs champagne, the evening's first ineffably sumptuous pour, the Transom went backstage to greet the great Frenchman himself. Now well into his 80s, Mr. Soltner is a man from another age: courtly, modest and famously hardworking.
There he was on his big night, not conducting his small army of sous chefs and willing helpers, as many prima donnas might have, but bent over a long table in a vast makeshift kitchen, his crisp whites gleaming, his tall toque proudly adorning his head, arranging what was about to become our first course—choux puff pastry with salmon mousse—with his own hands.
No globe-trotting celebrity chef like the culinary empire builders of today, Mr. Soltner always made it personal. At Lutèce, he worked the floor, sweeping through the pretty front of the house on East 50th Street, greeting each customer by name and inquiring about his or her order before retreating to the kitchen to cook it.
That was his true secret, and how he and Lutèce became legend. "I could never have opened a second restaurant, though many people suggested it," said Mr. Soltner, who missed a grand total of four days of work between 1961, when Lutèce opened, and 1994, when he sold it. "I had to take responsibility for each person's pleasure and well-being. It was my job."
Having gotten his humble, hardscrabble start as a 16-year-old apprentice at the Hotel du Parc in Mulhouse in his native Alsace, Mr. Soltner is fond of saying that French culinary technique is the result of 200 years of practice. And his own mastery is surely the result of Malcolm Gladwell's "10,000-hour rule"—practice making perfect. "There were no schools. I learned by doing things. It's the best training," he said
On this night, all of Mr. Soltner's hours of "doing things" were poured into course after delicious course. And the pièce de résistance: tournedos Rossini. Filet mignon with foie gras and sauce perigourdine, a dish so rich in calories that the Transom had thought it was against the law to eat it nowadays (at least in Mayor Bloomberg's Manhattan).
After dessert was served (a raspberry souffle made by Jacques Torres), it was time to go home. Beyond sated, the Transom could not recall the last time we had ascended to such heights of foodie heaven, and we have munched our way through many fine meals—including one unforgettable lunch at Lutèce, where we were treated to caviar soup and braised pheasant by NBC's Jane Pauley
But more importantly, how had Ms. Sheraton enjoyed her meal? We waved to her on our way out. She was still smiling.