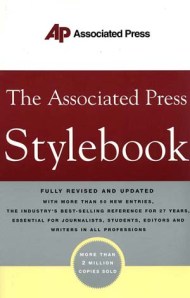 This afternoon, the Associated Press announced that they will no longer use "the term 'illegal immigrant' and 'illegal' to describe a person." The news collective's Stylebook, which is the arbiter of journalistic style, is followed by many outlets. Instead, of using the term to describe a person, they will use it to describe an action.
"Illegal immigration: Entering or residing in a country in violation of civil or criminal law. Except in direct quotes essential to the story, use illegal only to refer to an action, not a person: illegal immigration, but not illegal immigrant. Acceptable variations include living inor entering a country illegally or without legal permission," the new entry reads.
Senior Vice President and Executive Editor Kathleen Carroll explained the thinking behind the decision in a release this afternoon.
"The discussions on this topic have been wide-ranging and include many people from many walks of life. (Earlier, they led us to reject descriptions such as "undocumented," despite ardent support from some quarters, because it is not precise. A person may have plenty of documents, just not the ones required for legal residence)," Ms. Carroll wrote. In thinking about the term, the AP looked at other areas where they have gotten rid of labels in the Stylebook.
"The new section on mental health issues argues for using credibly sourced diagnoses instead of labels. Saying someone was 'diagnosed with schizophrenia' instead of schizophrenic, for example," wrote Ms. Carroll. "And that discussion about labeling people, instead of behavior, led us back to "illegal immigrant" again. We concluded that to be consistent, we needed to change our guidance. So we have."
Even though the new guidelines may make writing clunkier, the announcement notes, the AP believes that accuracy is worth it.
In the announcement, Ms. Carroll notes that this change will probably get some comments from pedantic logophiles.
"I suspect now we will hear from some language lovers who will find other labels in the AP Stylebook," she wrote. "We welcome that engagement. Get in touch at stylebook@ap.org  or, if you are an AP Stylebook Online subscriber, through the 'Ask the Editor' page."