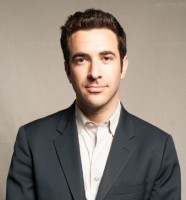 Ari Melber, a frequent television analyst and columnist for The Nation, has been named permanent co-host of The Cycle, where he will join conservative commentator S.E. Cupp, former Virginia Congressional candidate Krystal Ball and the cultural commentator Toure on the ensemble political talk show that airs on weekday afternoon on MSNBC.
"I'm excited to continue and advance my relationship with MSNBC as a co-host, commenter and writer for MSNBC.com," Mr. Melber told the Observer. Mr. Melber is also writing a reported blog on politics, law and constitutional rights for MSNBC.com which will contribute to the network's web presence.
Mr. Melber has been filling in for former co-host Steve Kornacki since it was announced that Mr. Kornacki (who is an alumnus of the Observer) would move to Chris Hayes' old spot at Up. Mr. Melber, who joined MSNBC as a contributor in 2011 has appeared as a guest on many other MSNBC programs.
The announcement was made on air today. Mr. Melber is an attorney who traveled with the Obama campaign during the 2008 election on assignment for The Washington Independent and served as a Legislative Aide in the U.S. Senate and was a national staff member for John Kerry's 2004 presidential campaign.
"It's a big sweater to fill — excited to join @thecyclemsnbc!" Mr Melber tweeted, after the announcement was made on air.  
In the interest of full disclosure, it should be noted that Mr. Melber is one half of an Observer media power couple. The other half, Observer staff reporter Drew Grant, in no way contributed to this post.