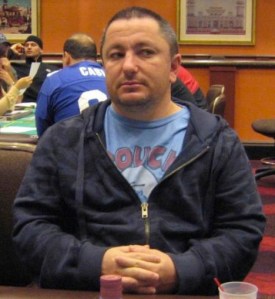 The collector and dealer Helly Nahmad was not among the defendants arraigned in the district court on Pearl Street yesterday afternoon, though a number of his alleged coconspirators were, and as Judge James C. Francis went down the list of defendants, the court spent most of its time on a man named Arthur Azen, who seemed to represent the greatest excesses of the alleged gambling ring.
A heavyset man with closely shaved hair, Mr. Azen faces a maximum sentence of 115 years in prison, 24 years of supervised release, and a $2,250,000 fine—more than Alimzhan Tokhtakhounov, Vadim Trincher, his son Ilya Trincher or Mr. Nahmad, the alleged leaders of the two criminal organizations listed in the indictment. If convicted, Mr. Nahmad faces up to 92 years in prison and his alleged partner Illya Trincher faces 97, while Mr. Tokhtakhounov faces 90 along with the older Mr. Trincher. (Mr. Nahmad was in Los Angeles at the time of the indictment, and surrendered to police there.) 
A government prosecutor stated that Mr. Azen had "his hands—or tentacles—in all parts" of the alleged criminal activity, which includes operating a major sports book, illegal gambling, money laundering and extortion.
The prosecution stated that Mr. Azen maintains a "no-show job" at Titan P & H LLC, a plumbing company in the Bronx that was allegedly used to launder money by what the criminal complaint calls the "Nahmad-Trincher Organization." According to the prosecution, Mr. Azen could not even provide an address for Titan when asked.
"Mr. Azen's job is basically to suck money out of Titan and funnel it to" other defendants, said one of the prosecutors.
The prosecution also stated that Mr. Azen sent mixed martial arts fighters to collect from one of the Nahmad-Trincher organization's debtors. The federal agents monitoring Mr. Azen were apparently "so concerned" for the wellbeing of a person who owed money that they intervened on one occasion by sending in police officers to protect the debtor.
The defense explained that Mr. Azen was "managing and promoting" mixed martial arts fighters, not using them to intimidate debtors.
Mr. Azen's attorney argued that his client's close family and community ties made him a minor flight risk, gesturing to Mr. Azen's wife, a tan woman with dyed blond hair seated in the second row. She and Mr. Azen live in Staten Island with their two children. Judge Francis set the bail at $1 million, with conditions that included Mr. Azen remaining under house arrest, surrendering his travel documents and being tested for drugs.
Mr. Azen's attorney attempted to have the drug test waived, arguing that there was "no indication" that his client uses drugs.
"Well actually he's admitted to occasional marijuana use," said a bemused-looking Judge Harris, presumably referring to post-arrest interviews. "So I'm not going to waive that."
Photo courtesy PokerPages.com.