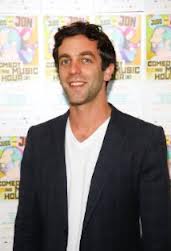 B.J. Novak, the actor, comedian and writer who became known for playing Ryan Howard on The Office, has signed a seven-figure, two book deal with Knopf, The New York Times reports. The first of the two books, which is fiction, is slated for a 2014 pub date.
"The closest analogy for me is Woody Allen," Mr. Novak's agent, Richard Abate, described the story collection. "Underneath these stories is a real intellectual curiosity. I think their appeal is that they're incredibly accessible and comic, but at the same time they're exploring the modern condition."
To be fair, Mr. Novak is not just another celebrity getting a ton of money for a comic memoir (not that there is anything wrong with that, per se). The Harvard grad and Lampoon alum started as a comedian and wrote a bunch of episodes of The Office (and eventually became an executive producer).
But credentials notwithstanding, if Mr. Novak does encounter writer's block and have trouble finishing that second book, he can always turn to his father. William Novak, who was a co-editor of The Big Book of Jewish Humor, has experience in the art of behind the scenes writing. The elder Mr. Novak, who was described as "ghost to the stars" by LA Weekly, has "collaborated" on books with stars ranging from Lee Iacocca to Magic Johnson to Nancy Reagan.