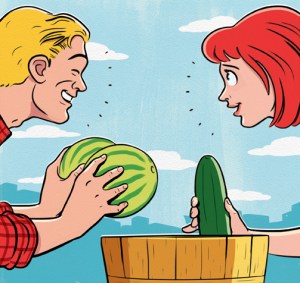 There was no room to swing a scythe, or even a trowel, at last week's Modern Farmer magazine launch party in Chelsea. The second-floor demonstration kitchen and event space of Haven's Kitchen was packed to the rafters with farm aficionados. And though no actual growers from the nearby Union Square Greenmarket were in evidence, the palpably giddy crowd did arrive draped in plenty of plaid and checked cotton.
Modern Farmer's premiere issue features a barrel of non-Gucci mules, plus several cartloads of winsome cowherds. The editorial mix ranges from "barns we like, and those boots you want" to more serious topics like food security, animal welfare and soil advice. Graphically, it helps that farming seems inherently photogenic—and that those who work on farms seldom require gym memberships.
"There's nothing more attractive than someone who can chuck bales of hay around," said founding editor Ann Marie Gardner, a pixie-ish veteran of Monocle and the Times's travel desk. "We can only be metrosexuals for so long. Plus, you also feel like there is a degree of safety with a farmer."
"Women get dressed up to go to the farmer's market because they think the farmers are hot," Ms. Gardner continued. "The greenmarkets are like Desperate Housewives meets Northern Exposure."
Ms. Gardner's party pal Sidra Durst—who is developing a downtown Museum of Food and Drink and whose extended real estate clan owns McEnroe Organic Farm in Dutchess County—said some of her greenmarket-going friends have more than simply admired the agrarian lifestyle. "I have friends who have slept with farmers," said Ms. Durst, "But they would kill me if I told you anything more."
Spring is in the air, and with it an aphrodisiacal whiff of fresh ramps and manure-covered Muck boots. To hear some denizens of the city's greenmarkets tell it, lovelorn urbanites are flocking to the farmstands with more on their minds than mizuna salad.
For a segment of the concrete jungle's nature- and love-deprived populace, greenmarket farmers are doused more with pheromones than pesticides. One Hudson Valley grower boasted—anonymously, to avoid getting whacked with a rolling pin back home—of a flood of carnal opportunity.
"If I were single, my truck would be parked downtown every weekend after the market closes," he said. "It wouldn't be hard to go astray."
And it's not just young bucks fending off wanton does. At least one same-sex marriage has come about from a farmer/buyer romance, according to GrowNYC spokesperson Jeanne Hodesh. And a 6-foot-1, strapping-but-married dairy farmer—a grandfather—tells of a barrage of texts sent from an all-too-regular customer, a green-eyed beauty in her 40s who was eager to milk their exchanges for more.
We could really have some fun if you weren't married, read the first sext. Then came: Are you going to be at USG this weekend?  What are you doing after the market today? Do you need somewhere to stay in the city?
The Hudson Valley farmer did his best to politely deflect the customer's interest as it escalated over a period of several months. Ultimately, he had to resort to sending an employee to work the greenmarket in his stead.
"It's tricky when a customer takes a shine to you, because you're trapped there." he said. "Now I know how waitresses must feel when diners hit on them." (Quizzed as to how this unwelcome stalker got his cell number, he hastened to explain: "It's on my business card.")
Stephanie Villani met her fisherman husband Alex at Grand Army Plaza in the early '90s when she took a farmstand gig to supplement her meagre literary mag pay. The next concession over was Alex Villani's Blue Moon Fish in Mattituck, Long Island, which they now co-manage.