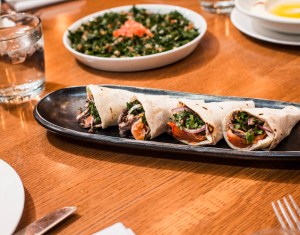 Q: What are your thoughts on the Mediterranean diet that has been getting such good press these days, like the recent New York Times piece calling the Mediterranean diet the new hot health buff's obsession?
A: I think calling it the Mediterranean diet is misleading because that sounds like it's an exercise in doing things we don't want to do. Eating the Mediterranean way should come naturally to us, like it does to the rest of the world. Different ingredients can supply the same culinary experience giving you a tenth of the daily fats. When you're out drinking in the Mediterranean, they have nuts out and people always end up eating a handful while they're out socializing. Tabbouleh will give you 300 percent of your vitamin C, 130 percent of vitamin A, 50 percent of your fiber and iron, so you've already fulfilled half of your needs for nutrition for the whole day. Add some meat and a vegetable, and your body is completely fueled. We've seen diets come and go and there's already diet fatigue in the market, but it is proven eating a balanced diet will help. Your mood will improve, your sleep will be better, and the rest will follow.
Q: Will the Mediterranean diet elevate Lebanese cuisine to the level of Spanish, Chinese or Nordic cuisine?
A: I do believe that what we're doing in regards to Mediterranean is the beginning of the journey. The cuisine has been dormant for quite some time, but it is a cuisine with an amazing level of fusion thanks to the Silk Road. We have 200 years of culture mixing with each other, which has created an amazing encyclopedia of food treasures yet to be reproduced. Should that interest remain, it will help Ilili further push their message. I'd say it's a wind that's blowing in our sail; if it's a wind that will sustain has yet to be determined.