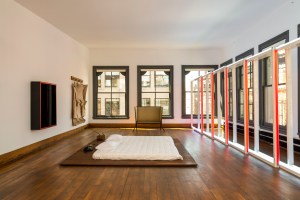 After more than 15 years of restoration work, 101 Spring Street, the cast-iron building in Soho where Minimalist artist Donald Judd lived off and on until his death in 1994, will reopen to the public as a museum in June. "We're a little giddy here," Rainer Judd, the artist's daughter, told a group of journalists last Thursday inside the building, where she grew up with her brother Flavin Judd, who was also on hand.
Judd père bought the place in 1968 along with their mother, dancer Julie Finch. It was a big year for him: he had a show at the Whitney, his first child (Flavin, who's named for the late artist Dan Flavin) and a cactus collection that was becoming a problem. "There was a certain amount of panic about where was the cactus going to go?" Rainer Judd said. They decamped from their cramped Union Square place for the fixer-upper on Spring Street.
The artist conceived of the building as a permanent installation, and so everything has been reinstalled just as he had it when he died, from the sizable liquor collection to the long row of obsessively organized silverware in the second-floor kitchen. There's some great art, too. Besides some major Judds, there's a Marcel Duchamp shovel, a Josef Albers painting and a vertical stack of bricks by Carl Andre. The spaces are tranquil, Spartan and intimate.
The restoration project totaled $23 million, and while there are some emergency exit signs that look new, it's hard to tell precisely where that money was spent, which makes Flavin Judd proud. "Our biggest goal was to have an old curmudgeon who knew the building walk through … and say, 'You wasted all of your money, because I don't see anything you did!'" That sort of guy, artist David Novros, who painted a fresco on a wall on the second floor, had met Mr. Judd for tacos the day before and given the project his seal of approval. "That's as good as it gets," Mr. Judd said.
The money, for the record, went toward high-tech improvements that render 101 Spring Street legal to inhabit, explained developer Rob Beyer, who served on the Judd Foundation committee in charge of the building. (Judd had a habit of ripping out walls and doors, violating a number of fire codes.) Mr. Beyer spoke fondly of "a smoke evacuation [system] with hidden exhaust equipment and fire-activated robotic smoke baffles." Another innovation: for Judd's immaculate fifth-floor bedroom, which has no built-in lights, the architects wired up a floor-spanning Flavin sculpture (a grid of blue and red fluorescents) to serve as emergency lighting.
What would Judd make of the whole thing? "Judd thought architects were assholes and idiots," said Stephen Cassell, a principal at Architecture Research Office who handled the project. "He never worked with an architect." ARO used a light touch. "You know that old kung-fu TV show where they walk across rice paper?" Mr. Cassell asked. "This was like that—leave no footprints."