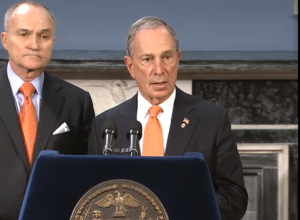 This afternoon, Mayor Michael Bloomberg and Police Commissioner Ray Kelly confirmed reports that the suspects of the Boston Marathon bombing attack allegedly had intended to bring their explosive arsenal to unsuspecting crowds in Times Square.
The brothers, Tamerlan and Dzhokhar Tsarnaev, were foiled when the car they hijacked ran low on gas, forcing them to stop at a nearby gas station. That's when their hostage escaped, setting the scene for a dramatic shootout and manhunt where Tamerlan Tsarnaev was killed and Dzhokhar Tsarnaev was captured.
Initially, the suspect said the two were planning to come to New York City to "party," but Mr. Kelly said additional information emerged during a second round of interrogation, when the he was more lucid.
"The information we received [was] that he was a lot more lucid and gave a lot more detailed information in the second questioning period," Mr. Kelly said.
Either way, both officials said there would be no way to be know if the terror plot would have succeeded in killing victims in Time Square.
"We don't know," Mr Kelly said when pressed on the subject. "We have a lot of presence–we have resources there–but we have no guarantees."
"We spend every dime we think we can spend to get a real value," Mr. Bloomberg added. "We train our people  continuously and we monitor what goes on around the world for best practices and for what the terrorists might be doing. But as Ray said, there are no guarantees. All we can do is do everything we can and that's all we're doing."
According to Mr. Kelly, the car the brothers had hijacked was loaded with six improvised explosive devices, including five pipe bombs one of the pressure cooker-style devices that was used in the Boston attacks. The brothers' decision to head to Times Square was apparently made spontaneously, as they were brothers were driving in the hijacked SUV, he said.
Mr. Kelly said that police could only speculate about the potential damage to Times Square.
"You saw the power of the bomb in Boston. You can take that and you can do a guesstimate as to what the damage would be in New York City," he said, adding that the suspect had been photographed in Times Square at leas twice: once with friends on or before April 18, 2012 and then again in November 2012.
He said it was unclear whether the visits were at all connected with their foiled plans, but believed New Yorkers were safe.
"There's no evidence at this time to indicate that New York City is currently a target of another terrorist attack stemming from the Boston bombing," he said.