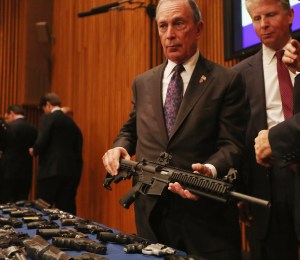 The U.S. Senate voted down a bipartisan deal to expand background checks to gun shows and internet sales today, and Mayor Michael Bloomberg isn't happy.
"Today's vote is a damning indictment of the stranglehold that special interests have on Washington," Mr. Bloomberg declared in a statement condemning both parties for their inaction. "Democrats – who are so quick to blame Republicans for our broken gun laws – could not stand united. And Republicans – who are so quick to blame Democrats for not being tough enough on crime – handed criminals a huge victory, by preserving their ability to buy guns illegally at gun shows and online and keeping the illegal trafficking market well-fed."
Mr. Bloomberg, who has become a national spokesman of sorts for gun control in the aftermath of last year's infamous Connecticut elementary school massacre, further suggested that he'd continue to put millions of dollars into affecting future congressional elections on the basis of this issue.
"But even with some bi-partisan support, a common-sense public safety reform died in the U.S. Senate at the hands of those who are more interested in attempting to protect their own political careers – or some false sense of ideological purity – than protecting the lives of innocent Americans," he continued. "The only silver lining is that we now know who refuses to stand with the 90 percent of Americans – and in 2014, our ever-expanding coalition of supporters will work to make sure that voters don't forget."
Update (5:58 p.m.): Gov. Andrew Cuomo, who rose to some national prominence for his tough gun control measures passed earlier this year, also weighed in:
"The Senate's failure to pass a bipartisan measure that is supported by the vast majority of American people is a sad statement on the power of extremists to stand in the way of reason and common sense. Background checks for firearm sales is a reasonable measure that would help keep guns out of the hands of criminals and help keep Americans safe from gun violence. In the wake of the seemingly unending cycle of tragedy involving gun violence, the Senate's inability to pass even a watered down, minimal gun safety bill is simply unacceptable."