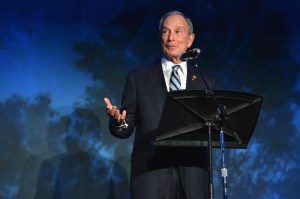 Although gun control advocates–including the New York Daily News editorial board–have sharply criticized the U.S. Senate for moving forward with gun legislation that mostly just focuses on expanding background checks, Mayor Michael Bloomberg is just fine with it.
"I think this is not perfect but it takes you 90 percent of the way–maybe 95 percent of the way–towards more rational gun laws," Mr. Bloomberg said during his weekly WOR radio show this morning. "And the public is overwhelmingly in favor of background checks. A couple of the editorial boards thinks it's not enough, but the public does and I do."
Mr. Bloomberg, who has become a national spokesman of sorts in the wake of last year's infamous shooting spree at a Connecticut elementary school, went on to agree with advocates that a federal assault weapons ban would ideal, but said it's simply not a political reality.
"It would be great if we could get rid of assault weapons, but that's just not going to happen at the moment," he continued. "So let's do this. And I don't know if you want to have a victory lap, but those senators and House members–when we get to that, if we get to that–that voted for this should have a big smile on their face. They did something to save your life and your kids' lives and make this country a lot better."
Or, as Mr. Bloomberg argued while discussing another missing aspect–microstamping ammunition with identifying characteristics–in New York State's recently-passed gun law, "If you wait for the perfect thing, you'll never do anything."