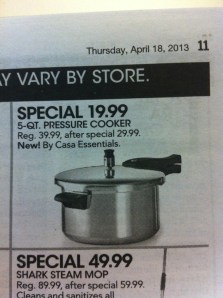 It's pretty common for social media managers to embarrass their employers by forgetting to cancel pre-scheduled tweets during national tragedies, and heaven knows targeted online advertising has embarrassed more than one brand. But what about old-fashioned newsprint? Doesn't someone scan the ads for blunders? Apparently not.
Behold, an advertisement squirreled away in the corner of today's Daily News: Macy's is advertising a special 50-percent-off discount on a Casa Essentials pressure cooker.
Pressure cookers have been in the news this week, because that's what the perpetrators used in Monday's Boston Marathon bombing. That's actually one of the few things we do know about the case.
But the Daily News is far from the worst offender. It looks like the ads are running all over the country. Jim Romenesko points out that the Minneapolis Star Tribune stuck it on the same page as a story about the events at the Marathon. But the most appalling placement comes from the Cape Cod Times, where it appeareddown the page from a diagram of the Boston bombs.
Wait until the super sleuths at Reddit get a hold of this.
We've reached out to Macy's for comment and will update if we hear anything back.
(Updated, 2:36 p.m.) A Macy's spokesperson has provided us with a statement:
"We sincerely apologize to anyone who was offended by our ad in today's newspaper, it was truly unintentional. As part of our regularly scheduled promotion for the One Day Sale, an image of a pressure cooker was featured along with approximately 20 additional items for the home. Due to the lead time to place national advertising, we were unable to pull the image and apologize for any insensitivity in light of recent events. All possible efforts are being taken to remove the item from future ads."