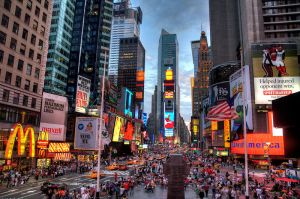 The two suspects involved in the deadly bombing of the Boston Marathon planned to detonate the rest of their explosives in Times Square, according to NBC 4 New York, a plot echoed by the New York Post, Reuters and many other outlets.
It was initially said that the accused duo, Tamerlan Tsarnaev and Dzhokhar Tsarnaev, were planning to come to New York to "party," but earlier this afternoon, widespread reports emerged that Dzhokhar told investigators that he and his brother discussed using their remaining explosives against the city's tourist-filled landmark.
Of course, their plan was unsuccessful after Tamerlan, the older brother, died in a police shootout and the younger was captured after an extensive manhunt.
"Officials cautioned Thursday that the idea was 'aspirational,' and was not developed," according to NBC.
Mayor Michael Bloomberg and Police Commissioner Ray Kelly recently scheduled a press conference for 1:30 p.m. but did not indicate the topic. Once live, the briefing can be viewed below. The NYPD and regional FBI office declined to comment.
[youtube http://www.youtube.com/watch?v=VuG9utzlNT0&w=560&h=315]
Additional reporting by Jill Colvin.