Tickets to tonight's performance of The Love Song of R. Buckminster Fuller, a film live-scored by Yo La Tengo and -narrated by Sam Green, are tragically sold out, but all is not lost! Heartbroken Bucky fans jonesing for their geodesic fix can get it elsewhere in the art world. Perhaps it was the Whitney Museum of American Art's exhibition of Fuller's visionary designs in 2008 that sparked the craze, but recently collectors, performance artists, sculptors and museum directors alike can't seem to get enough of his signature spheres.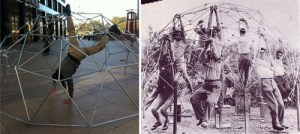 Los Angeles artist Liz Glynn treated us to a little Bucky history lesson for Performa 11, gathering a group of 10 performers to reenact Fuller's ill-fated attempt to build a large geodesic dome with a group of students in 1948. (The project failed, but one of Fuller's pupils, the sculptor Kenneth Snelson, went on to develop the principle of tensegrity that would allow such structures to stand.) Ms. Glynn staged her 40-minute performances at various New York City sites, including Times Square, before leading 25 volunteers in successfully building a dome in the Financial District.
More recently, Leo Villareal illuminated Madison Square Park with BUCKYBALL (2012-13), a high-tech commission consisting of nearly 200 LED tubes, each capable of creating 16 million colors. The dazzling light show took the form of two Carbon 60 molecules, dubbed "fullerenes" by the scientists who discovered them.
Then there are the domes one can actually enter: the VW Dome standing in the courtyard of MoMA PS1 has been the site of performances, screenings, installations and more since it opened in January 2012. Last month, Klaus Biesenbach, director of MoMA PS1, debuted a second dome in the storm-devastated Rockways that will similarly serve as a cultural and community center.
In 1961, Fuller designed the Fly's Eye Dome, a structure studded with bubble-like windows  he believed could be used as a low cost shelter. Given the craze for domes (the fly-eyed variety has been popping up around the world at expos like Design Miami and the Toulouse Contemporary Art Festival), perhaps it's only a matter of time until we're all peering out the portholes of geodesic homes. Might be hard to hang the art, though.