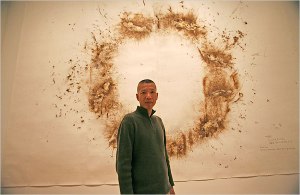 Artist Cai Guo-Qiang is best known for blowing things up—he designed the opening and closing ceremony fireworks shows for the 2008 Beijing Olympics and once built a "10,000-meter barricade of fire [that] was sustained with 1300 pounds of gunpowder" in the middle of the Gobi Desert. But for the sake of his new neighbors, he might have to temper those artistic urges at home: the Chinese contemporary artist just bought the penthouse at 542 Broadway, in SoHo.
Mr. Cai and his wife, Hong Hong Wu, picked up the massive 4,120-square foot spread for $5.95 million—a price that would surely make his father, an ardent communist who "thinks Communism now is ruined," according to his son, by the cultural and economic freedoms that the country has experienced since over the past few decades, wish for a Cultural Revolution redux.
But for the capitalists among us, the four-bedroom duplex has much to offer. "The centerpiece of the loft," Sotheby's Robin Stein, who listed the unit with her husband, Jeremy, told The Observer, is the "double-height octagonal atrium dining room that the current owners inherited." Sellers Peter Douglas and Ulrika Ekman, are both lawyers whose "artist in residence" credentials, necessary to live in SoHo, are unknown. They have owned the unit for 15 years, so we're guessing they still made a healthy profit on the resale, despite not making their $6.25 million ask.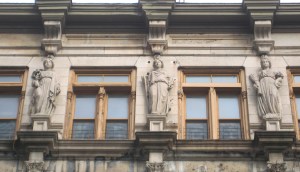 The living room, with its 15-foot, 7-inch high ceiling, is no slouch, either. And if even this is too constricting for Mr. Cai and Ms. Wu, the apartment comes with rooftop access, most of which is reserved for the penthouse owners. And if the owners are still not satisfied, "there is actually an additional area on the front of the roof that isn't decked," but could be.
And it's not just the interior and rooftop that dazzle—the apartment also comes with a trio of goddesses guarding the façade: Panacea, goddess of universal remedy; Athena, goddess of wisdom; and Ceres, goddess of agriculture, flank the sixth-floor windows. And for the philistines among us who wouldn't know the difference between a cymatium and a caryatid, Tom Miller at the architecture blog Daytonian in Manhattan sets us straight: "Because their heads clearly do not touch the cornice brackets above them, they politely decline to do the work of caryatids, preferring to be art."