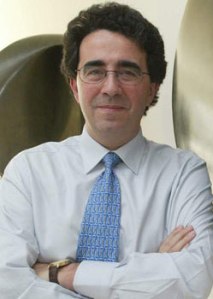 Earlier this month, the Municipal Art Society announced a "provocation" for Penn Station, challenging four architecture firms—Diller Scofidio + Renfro, SHoP Architects, SOM and Santiago Calatrava—to rethink the city's most hated transit hub. The selection of Mr. Calatrava's firm as a participant, shall we say, provoked some controversy, with blogger Ben Kabak at Second Avenue Sagas telling The Observer, "Even involving Calatrava underscores the utter contempt for transit improvements that some of the city's leading institutions have." At over $3.7 billion, the PATH terminal that Mr. Calatrava designed for the World Trade Center site will be far and away the most expensive subway station in world history.
So Mr. Kabak should be pleased to learn that Mr. Calatrava's firm is not, in fact, participating in the effort. Santiago Calatrava's firm sent the following statement to The Observer via email this afternoon:
As architects and engineers dedicated to enriching the quality of life in New York City, we have volunteered our time and talent to assist the city whenever asked. And while we wholeheartedly support the mission of the Municipal Art Society, we are compelled to correct the public record concerning their announcement of our participation in the Penn Station Challenge. This notice was regretfully released prior to informing us and without our consent. Unfortunately, given the office's current work load and the time frame of the project, we cannot assist the Municipal Art Society in this endeavor.
According to the New York Times, H3 Hardy Collaboration Architecture will be taking Santiago Calatrava's place as the fourth firm involved in Municipal Art Society's "provocation."
Coincidentally, earlier today SHoP principal Vishaan Chakrabarti spoke about the high cost of the World Trade Center PATH station at a panel on the new Penn Station at the Regional Plan Association's 2013 assembly.
"There are people," Mr. Chakrabarti said, "rightfully, who are very concerned—look at what happened at the [World] Trade Center Site, and they understand that a lot of money went for something that maybe is not quite the right amount of money for the people that are going to move through that new station there, and that this is somehow going to be a white elephant."
"I think a shared vision" of Penn Station, he concluded, "has to convince people, politically, that that will not be the case here."