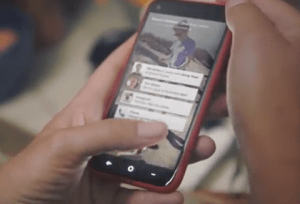 The highly anticipated Facebook phone is finally here and it's not a phone at all.
Instead it's slick-looking software that wants to assume mass control of Android phones everywhere. It's going to be available for download on April 12 in the Google Play store. HTC will be releasing the first Facebook Home optimized phone on the same day.
"It's a family of apps and you can install it and it becomes the home of your phone. So we're calling this, 'Home,'" announced Facebook founder and CEO Mark Zuckerberg from under a sheen of sweat.
"With Home, you see your world through people, not apps."
Here's what that means: Home's central features include the "cover feed," a one-stop source about your friends' happenings, and "chat heads," which are bubbles enclosed with your friends' faces. "The home screen is the soul of your phone. You look at it 100 times per day," Zuck said, before criticizing the distraction of messaging apps that take you out of whatever screen you're looking at, and which Facebook clearly hopes to replace.
Now, as you hop from app to app on your phone, the "chat heads" will follow you around, begging for your attention as you try to browse Instagram and read the New York Times. Now, let's say you want to get rid of one of those pestering friends. (One example used in the presentation: Sheryl Sandberg.)
Zuck and his cohorts (who broke hoodie ranks with a cardigan and a button-down) used a number of words to describe how one gets rid of the "chat heads," with a brief swipe of one's fingertip. You can thinking of it as flicking them away, like a fly, for example. "When you're done with them you just throw them away at the bottom," Mr. Zuckerberg said once, discarding Sheryl's face.
This new mobile suite introduced, Mr. Zuckerberg returned to the stage for the grand finale: a new commercial. This one didn't mention chairs, but it was just as weird. A man killing time before his plane takes off flips through his cover feed, and as he does, the subjects of the photos pop up around him: A couple of friends in swimsuits are crammed into the overhead bins; cats run along the backsides of seats; his nephew appears, covered in birthday cake; a drag queen pops out of the beverage service cart.
Actually, it captured the  randomness of the Facebook browsing experience pretty well.