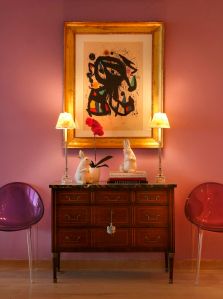 THE HURLEY FAMILY'S apartment on East 88th Street does not look like a hotel room. "If your house looks like a hotel, is it really your home? Is it really a piece of you?" asks interior designer Micky Hurley, pondering the recent trend of luxe but impersonal beige homes. Having arrived in New York from the glossy pages of what seems like every Chilean design and society magazine in existence, the Hurleys (Micky and Malu) have brought with them something that's been missing in New York interiors for a while–joie de vivre.
Fun, which has presumably been hidden in a Manhattan Mini-Storage unit waiting for the return of Wall Street, is creeping back into spaces across the city, especially those in which Hurley & Company has had a hand. Color flares across homes designed by Micky like the sweep of a bullfighter's cape, coating rooms arranged with antiques and oil paintings. Say ciao to austere upholstery and restrained behavior: In Hurley's world, life is splashed with Champagne (it doesn't matter what vintage as long as it is poured into beautiful glasses), lit by candles and filled with books, interesting people, gorgeous children (the Hurleys have four of them) and family photographs in silver frames.
Micky's aesthetic "has a lot to do with where he was born and how he grew up," says his wife, Malu. "It's very Gabriel Garcia Marquez." Malu is 29; she was 18 when she and Micky eloped 11 years ago this May, eight weeks after meeting in Santiago, where Malu was taking a gap year from the University of St. Andrews in Scotland. Peruvian-born and Hotchkiss-educated, she is spokesperson, partner and translator for Micky, who is descended from the Spanish conquistadors who founded Chile and who looks like you've always hoped a conquistador would: tan, blond and dashing, with ocean-blue eyes.
He grew up in a Spanish-style house in Santiago with his mother, his grandparents and his great-grandmother, who lived to 104 and whose permission he would request before rearranging furniture in the house. His grandmother, a baroness, was born in a castle in Ireland; his grandfather accompanied Micky on antique-buying expeditions at the age of 12. His mother was married for 14 years to Pier Luigi Samaritani, the acclaimed Italian opera director, and Micky briefly lived with them in an 18th-century Tuscan villa, where Pavarotti and Baryshnikov would come for dinner.