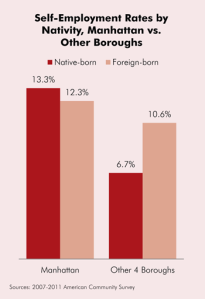 As more and more New Yorkers find employment in low-income jobs (35 percent of all New Yorkers now work jobs that pay $27,000 a year of less, according to a recent study), one of the most perplexing questions is how the city should grapple with what seems like an increasingly unworkable reality. How to address a growing percentage of New Yorkers working in jobs that don't pay enough to live in the city?
Should the city just admit that we require the services of workers who will need some kind of public subsidy to remain in New York? Try to build enough affordable housing to meet anything close need in this city? Good luck. But what if low-income New Yorkers solved the problem of not getting paid enough by going to work for themselves?
While New York is currently experiencing something of an entrepreneurship boom—with food trucks, restaurants and tech start-ups galore, very few of these benefiting  from the golden age are low-income, native New Yorkers, according to a new study from the Center for an Urban Future. The study suggests that more initiatives to support and encourage entrepreneurship in low-income communities would help to bring economic self-sufficiency to New Yorkers who have long struggled to make ends meet.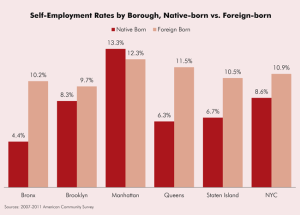 At the same time, if low-income residents were to open small businesses in their low-income communities, it would also help to bring economic vitality—food trucks, grocery shops, retail and restaurants—to many neighborhoods that currently lack for services.
At the moment, entrepreneurs tend to live in more affluent neighborhoods and to be disproportionately not native New Yorkers (the Bronx shows the most pronounced expression of both trends, with only 14.6 percent of the city's self-employed individuals and 10.2 percent of them not from New York). Citywide, the native-born self-employment rate is 8.6 percent, while the foreign-born self-employment rate is 10.9 percent.
This is, in many ways, not surprising. More affluent individuals have better access to the financial capital and other resources needed to start a business; low-income New Yorkers tend not to have the money to invest or the know-how to find the people who do. Nor is it startling that a disproportionate number of non-native entrepreneurs are foreign-born—part of what makes New York so dynamic is that it attracts go-getters with more drive and motivation than the average person.
Still, each of the 10 zip codes in New York with the lowest rates of self-employment have median incomes below $33,000, according to the study. And nine of those neighborhoods have a larger percentage of non-native New Yorkers running businesses.
Manhattan, on the other hand, has one of the highest rates of self-employment and more native New Yorkers than newcomers running their own businesses.
But is incentivizing entrepreneurship really the way to go given that starting a small business is a tough slog, even if you're not trying to do it in what may be the most competitive, least forgiving places in the country? Less than half of all small businesses—48.8 percent—make it through their first five years, according to U.S. Census data on small businesses between 1977 and 2000.
Then again, as the study points out, many low-income communities include plenty of small-time, on-the-side, under-the-table businesses: hair dressing, child care, even food and drink vending, so the entrepreneurial spirit is manifest even in places where it has, by and large, failed to take root and flourish into middle-class existences. With the right push, this might just be possible. And, while New York City can be one of the most punishing places to try and shoulder ahead of the competition, the size and density of the population mean that there are customers galore. Businesses fail for many reasons in New York City, but lack of a potential clientele is certainly not one of them.