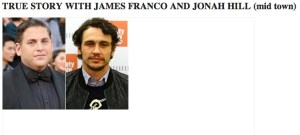 Okay, so technically this movie is called True Story, but the synopsis, via Craigslist's P/T paid gigs pages, reads like it was torn from the Capote non-fiction novel:
SYNOPSIS: STORY OF A JOURNALISTS' RELATIONSHIP WITH A MOST WANTED MURDERER AND A CASE OF STOLEN IDENTITY.
Short. Brief. Succinct. To the point. And more adjectives! (We wonder if Mr. Franco himself wrote the entry?)

The IMDB page fill in a little more of the details:
A drama centered around the relationship between journalist Michael Finkel and Christian Longo, an FBI Most Wanted List murderer who for years lived outside the U.S. under Finkel's name.
So In Cold Blood meets The Identity Thief! And with your chance to play a journalist! How hard could that be? Here's the full listing, for those interested in taking the gig. (We'll see you at the Cattle Call, baby!)