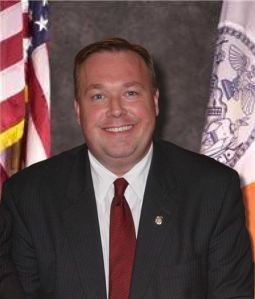 Councilman Dan Halloran, charged last week in a wide-reaching bribery scheme, often says his office has been consistently ranked number one citywide in constituent services, but it's not completely clear where his number comes from.
Indeed, after Mr. Halloran's chief of staff resigned yesterday, his spokesman repeated the assertion that their office was "the most responsive to constituents in the Council, closing over 8,000 cases." At his re-election kick-off in February, Mr. Halloran himself touted their "No. 1 ranking in constituent services in the Council." The claim was again presented by his spokesman last October and their office produced a press release celebrating the achievement in January.
According to sources in the Speaker's office, however, the City Council does not disclose these numbers for individual members' offices to compare or even require them to use CouncilStat, the program that documents and tracks specific constituent inquiries to district offices. The only way for Mr. Halloran to know of his ranking, one source said, is to poll the other 50 members of the City Council.
"We do not classify constituent cases in terms of which member is ranked," said another source familiar with the CouncilStat system. "We don't rank members."
In Mr. Halloran's home borough of Queens, a majority of council members use CouncilStat but several do not, with one spokesman arguing that it's "not very user-friendly." Multiple council offices confirmed that Mr. Halloran had never reached out to them to conduct his own poll of how many constituent cases they have handled. Furthermore, one said they were nearing 9,000 constituent cases closed since 2010, which would appear to challenge Mr. Halloran's claimed ranking.
At an unrelated press conference last month, Politicker asked Mr. Halloran about the number. The councilman replied that he wasn't familiar with the methodology but expressed confidence in the soundness of the result.
"You got to talk to policy people, I couldn't give you how the Speaker's offices gives us our numbers or what percentage it is of the overall number in the Council," Mr. Halloran said. "It's a backwards I.T. thing, I couldn't tell you how it was actually calculated."