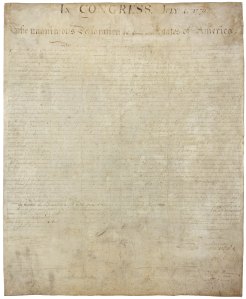 Tonight at a State Department dinner in Washington, D.C., the Foundation for Art and Preservation in Embassies will present Carlyle Group co-founder and co-CEO David Rubenstein, a formidable collector of documents from American history, with its Leonore and Walter Annenberg Award for Diplomacy through the Arts. But that's not the only honor changing hands. At the dinner, Mr. Rubenstein will donate reproductions of a rare copy of the Declaration of Independence that he owns to every United States embassy in the world. He'll present the official gift to America's 68th Secretary of State, John Kerry.
Mr. Rubenstein's prized copy of the Declaration is known as the 1823 Stone Declaration of Independence, which was commissioned by the eighth Secretary of State, John Quincy Adams, in 1820 when everyone became concerned that Thomas Jefferson's original version would break down over time. The three-year process of developing a suitable facsimile was handled by an engraver named a D.C.–based engraver named William J. Stone.
The process of making the copy is pretty remarkable, and is detailed in the news release: "The original document was wetted and pressed against a manuscript until a portion of the ink was transferred, then re-imposed on a copper plate and etched so that copies could be run on a press." (Presumably a different method will be used this time.)
The version owned by Mr. Rubenstein is now on loan to the U.S. Department of State's Diplomatic Reception Rooms.
Each embassy will receive its copy in a frame modeled on one designed by Revolutionary soldier and artist Charles Willson Peale.
FAPE's Chairman Jo Carole Lauder said in a statement, "We are honored to receive this gift and thrilled to share it with the broader diplomatic and international communities in U.S. embassies around the world."