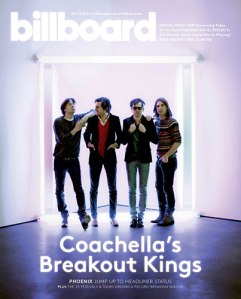 Well, that's a sentence I never thought I'd write. But yes, David Zwirner's 20th Street gallery is featured on the cover of the new issue of Billboard.
The story, about Phoenix, features a photograph of the French rock band standing in front of a work by Dan Flavin that was featured in an exhibition at the Chelsea gallery in February. Mr. Zwirner used to be an A&R man for a record label in Hamburg. The band decided to do the shoot there after previously attending the gallery's "Donald Judd-Dan Flavin" show the weekend it opened. (Laurent Brancowitz, their guitarist, is "very knowledgeable" about Flavin's work, according to a gallery spokesperson.) At David Zwirner, they discussed such topics as how "being cool is boring." (Incidentally, or rather not, their fifth studio album, out April 23, is called Trying to Be Cool.)
Here's a little scene setting about how Phoenix responds in the face of classic Minimalist art:
"The foursome float from room to room, occasionally muttering passing thoughts to each other in French to break up the long, pensive silences."
Sounds fun!
No word yet as to what this means for Mr. Zwirner's pop music career, but we'll keep you posted on updates as they arise.