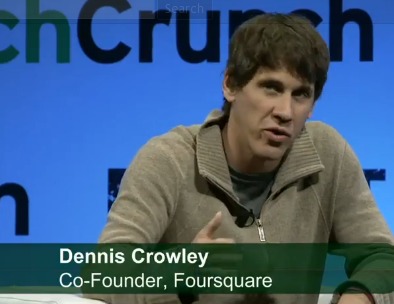 This week is the New York edition of TechCrunch Disrupt, which means it's time for the annual friendly grilling of Silicon Alley personalities. Taking his turn in the hot seat this morning: Fuelband-brandishing Foursquare CEO Dennis Crowley.
This year's conference takes place in the least startup-y of neighborhoods: right next door to Penn Station, in the Hammerstein Ballroom. It's covered in faux rococo detailing, and the carpet has seen better days, possibly during the Ford administration, and don't even try sitting down on the stairs to make a phone call because you will be bounced.
So it was in incongruous surroundings that @dens tackled a no-fun question: Where did all the adulation go? 
"We're not the shiny new thing any more," Mr. Crowley admitted with a shrug. "We're in that interesting hazing period for companies, where people are still skeptical of whether this company is going to be able to pull it off or not."
"It's not terribly daunting," he added, all but literally brushing his shoulder off. "It's fine if people are skeptical of what we're doing–let's just put our heads down and focus on the work we're doing."
That doesn't mean he could resist a couple of digs at "the haters," the metaphorical pebble in Mr. Crowley's cross-trainers. He suggested that, "there's a lot of people who still think of us as 2009 Foursquare," adding that, "the biggest haters and critics haven't opened the app for six months." Makes you wonder about those monthly active user numbers.
He also responded to former Square Keith Rabois, who recently criticized Foursquare on Twitter. "I don't think he's looking at the same data we're looking at," Mr. Crowley said. Diplomatic! He went on to point out that Mr. Rabois is on the board of Yelp and suggested that he probably ought to be worried. "We don't pay attention to people that are misinformed."
Do startup execs take lessons in shade from the contestants of Rupaul's Drag Race?
He also called the perception that Foursquare isn't growing false, saying the metrics they track regularly (like active users and signups) are all growing 10 to 30 percent month over month. On the merchant side, a million businesses have claimed their listing on Foursquare, making it easier to sell them on promos. Mr. Crowley said revenue growth is steady and the company is "routinely signing six-figure deals" with national merchants.
Not that he'd cough up much in the way of hard numbers, though: "We're a private company, so we don't have to disclose our master plan for you," he pointedly replied to one of interviewer Colleen Taylor's more probing questions.
Also, Mr. Crowley described himself as an Uber "super user." So there's that.