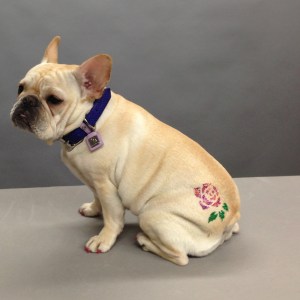 Nowadays, doggies searching for an act of youthful rebellion have more options than just pooping on the carpet.
Pooches can embrace their inner punk by getting "inked"–yep, that's right–with a new doggie tattooing service offered by Upper East Side Celebrity Dog Groomer, Jorge Bendersky.
According to an email from Dana Humphrey, Bendersky's P.R. rep, glitter tattoos are the latest trend in canine fashion.
"Bendersky has always been a fan of the ink and wears bold tattoos himself. Now, he extends his love for tattoos to his furry friends," the email reads. "Glitter Tattoos for dogs allow your pooch to express their inner artistic selves by prancing around and showing off their snazzy glitter design."
Ms. Humphrey says that female pups tend to prefer a rose, butterfly or heart design, while males prefer a star, anchor or a skull and crossbones. Although, if you ask us, we bet what both would really prefer is walkies and some table scraps, and not having a glittery decal imprinted onto their hindquarters. Just speculating here.
Mr. Bendersky says that the tattoos are especially popular on short-haired dogs. "In the summer, they cut the dogs' hair short, so you've got to supplement the glamour," he told DNAinfo. "Having no hair is no excuse not to be glamorous."
According to DNAinfo, advocates of canine couture have warmly embraced the new trend.
Upper East Side resident Fallon O'Brien got a butterfly tattooed on Fletch, her 7 year-old chihuahua. "I go to a lot of events, and people dress up their dogs in expensive outfits, and it was something I could do to make my dog stand out that wasn't that expensive," the 33 year-old teacher was quoted as saying.
"Sometimes, my dog and I dress in the same color if we're going to a red carpet event. During the summer, it's just too hot to have him wearing outfits like that," she continued. "The tattoo is a good option."
After Joanne Pelzer gave her 8 year-old chihuahua Hubbell a heart tattoo, she was shocked at the attention he received.
"When I'm in Central Park. tourists are constantly stopping to see him. He absolutely loves the attention," she said. "All he does is get his nails cut, and I comb him to get that extra hair off, so it is fun to have this little fun thing for him."
The process costs $100 and involves filling in a stencil with canine-safe glue and adding glitter and rhinestones. These are most often placed on the dogs' hips or tailbone, making for the canine equivalent of a lower back tat.
That's right, Upper East Siders. Come summer, you can trade in your doggie's Chanel coat and booties for … a tramp stamp.
Fashion is a fickle mistress.