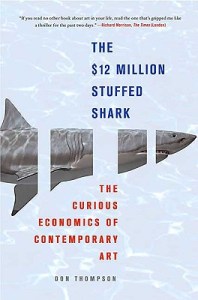 Publishers Marketplace reports today that Don Thompson, author of the widely read The $12 Million Stuffed Shark: The Curious Economics of Contemporary Art, has just sold a follow up that seems to be in a similar vein. The book is set to be published by Palgrave in spring 2014.
The Supermodel and the Brillo Box is, according to PM, "a gossipy revealing second book about the art world, with fresh material about the Crash of 2008, the rise of China and the Gulf States, buying on the Internet, and new behind-the-scenes stories about artists, dealers and auction houses." (We're going to go out on a limb here and say the supermodel is probably Stephanie Seymour.)
Mr. Thompson is a Toronto-based economist and a professor at that city's Schulich School of Business.