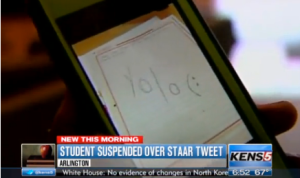 Goofing off on standardized tests can be a high school rite of passage, but we don't recommend publicizing photos of your test answers unless you want to end up in the principal's office. Kyron Birdine, a junior at a high school in Arlington, Texas learned this the hard way when he tweeted a photo of his essay for the State of Texas Assessments of Academic Readiness (STAAR).
What's more, he sent the picture of his essay answer to test officials. His thoughtful essay response? "YOLO :)"
Mr. Birdine was given a four-day in school suspension for the "breach of security," and school administrators made him delete the tweet.
"I was being a high school kid getting on Twitter," he told the local news station. YOLO 🙁