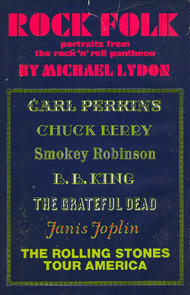 The New York Times  book critic Dwight Garner chose his three favorite compliations of celebrity profiles from that golden age before public relations machines coordinated access, back when journalists could get close to their subjects without worrying that angry emails would flood their inbox, or so we imagine.
The post is the first in a new feature on the ArtBeat blog called "Deep Cuts," where "writers recommend older or lesser-known books in a category of their choosing."
"The one thing these three books have in common is that they were written before the celebrity-industrial complex was fully formed, when a journalist could still push past an artist's P.R. phalanx and come back with a story that possessed real feeling and offbeat detail," Mr. Garner wrote on the Times' Arts Beat blog.
To kick off the new, bloggy feature, Mr. Garner chose three books from the 1970s. People are Crazy Here, a 1974 book of profiles by Observer film critic Rex Reed, Kenneth Tynan's 1975 The Sound of Two Hands Clapping (which Mr. Garner calls "an assortment of the kind of critical profiles that no one really writes anymore") and pioneering rock critic Michael Lydon's 1971 collection of articles he wrote for The Ramparts and Rolling Stone called Rock Folk: Portraits from the Rock 'n' Roll Pantheon. Perhaps in a nod to '70s sensibility, Mr. Garner calls Rock Folk "a rolling series of profiles that crank down the windows in your mind."
We have to say, a blog about forgotten classics seems like just the kind of thing that aging New York Times readers can really get behind. And we have to admit, life sure sounds fun back in the old days.