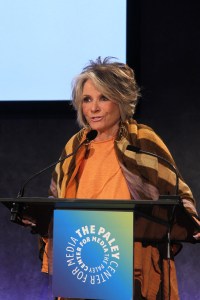 When Sheila Nevins first started at HBO as "Director of Documentaries," the cable network had only done one, and she only signed a 13-week contract. Over three decades later, and save for a three-year diversion in the '80s, Ms. Nevins is still at HBO, and is still heading up the channel's documentary division. We can only hope the contract she just signed at the Chelsea Mercantile has as much staying power.
And this is nowhere near Ms. Nevins' first purchase in the condo building. In fact, it's at least her eighth.
Ms. Nevins, who has produced shows like Real Sex, along with less salacious fare, began buying up units in the Chelsea Mercantile at 252 Seventh Avenue back before city records were digitized. But her interest in the building dates back to at least 2004, when she picked up a one-bedroom on the sixth floor for just under $1.1 million. This was before Nick Jonas, Lance Bass, Marc Jacobs and Jane Fonda—and eventually Katie Holmes, who rented a unit in the building right after she split up with Tom Cruise (Suri goes to the Avenues School just down the street, a draw for many of the Chelsea Mercantile's new bold-faced names)—made the building the most star-studded in Chelsea.
Ten years and more than a dozen property transactions later (Ms. Nevins has been gradually offloading her units—at least four of which she's owned over the years—at the Channel Club building on East 86th and York) she has graduated to the penthouse—a two-bedroom duplex penthouse, to be exact, that she picked up for $4.5 million, according to city records.
The two-bedroom unit (easily converted back to a three-bedroom) was "beautifully renovated" by its previous owner—Carmelo Starrantino, according to city recordes—said Pamela D'Arc with Stribling, who had the listing, and it also has a "dramatic" glass staircase leading to the master bedroom on the unit's second floor.
The building also contains a feature that may attract attention-shy celebs: a private garage. "You can access the garage without leaving the building," Ms. D'Arc told The Observer. Celebs still have to slum it in the elevators like everyone else, but "most celebrities in the building tend to stare at their iPhones while in the elevator," a resident told the New York Times.
Celebrities—just like you and me!