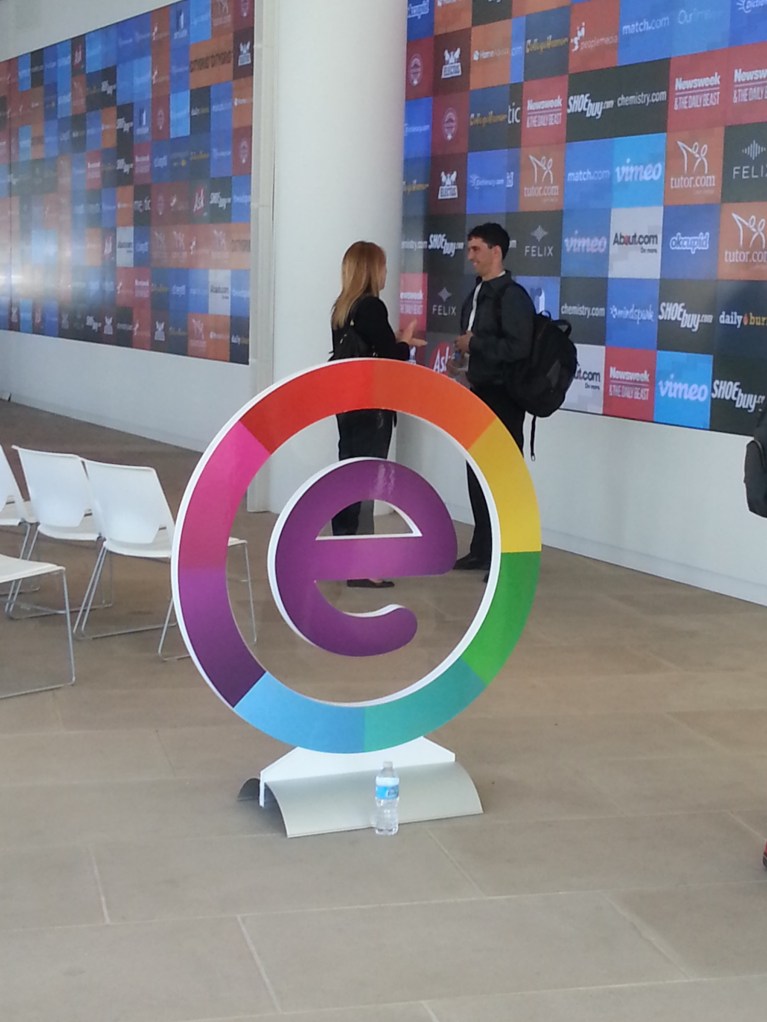 It's graduation day at the Entrepreneurs Roundtable Accelerator, and the audience for the demos–heavy on the enterprise offerings, but with a buzzy online dating startup spicing up the proceedings–was the biggest we've seen it. Betabeat arrived at the IAC HQ even later than usual and so found ourselves relegated to the standing-room-only section, behind a small mob of dudes with messenger bags.
Sidling up to a table, we almost bumped into the fashionably attired cofounder of Trendalytics, practicing her speech in a mutter and pacing the floor in sky-high nude heels.
Without further ado, the companies:
Acquaintable A new online dating service, which wants to set you up with friends-of-friends instead of randos who just want pictures of your feet. "The problem with all online dating sites is they're based on introducing users to strangers," said cofounder Joel Rodriguez, but 70 percent of people meet their significant others through friends. So the site piggybacks off your social networking connections. If you indicate you like someone and he/she does the same, Acquaintable makes the connection. 15 percent of beta users returned daily.
Plus, the site has 20 percent more women than top competitors. Probably because there's no one asking for pictures of their feet.
Cognical "Builds intelligent decision engines for the financial services & lending industries, sold via a SaaS," according to the program. "We help lenders identify the loan applicants that will pay them back." Onstage, cofounder Brandon Wright focused specifically on payday lenders, who are apparently "desperate to reduce default rates," and promised that their engines can grow profits by 25 to 75 percent. An AI evaluating who's a credit risk? What could possibly go wrong? (Skynet.)
Consignd "We let anyone–whether they're bloggers, pinners, or even you–open an online store." What that means: "Influencers" with large followings can create their own storefronts and recommend other people's products in exchange for a 25 percent cut of any sales. So many twee bloggers are about to make so much money off Anthropologie it's not even funny.
Easy Pairings Nothing like a little non-tech-industry experience to help you find a sticky wicket you can solve for an enterprise client. Darren Wan is the co-owner of Red Egg in Chinatown, and after years of sorting through massive piles of resumes, he now wants to make it easier to hire front-of-house restaurant staff. Hence Easy Pairings, a mobile service that aims to automate much of the process of finding active job seekers with the necessary qualifications. This one looks promising.
Monaeo You'd rather be tossed into oncoming traffic than get audited, right? Well, Monaeo would like to help you out there. "We are solving one of the biggest problems in taxes," the presenter announced. No, he didn't mean avoiding them entirely. The company promises to protect "enterprise and high income folks" during "multi-location audits" by tracking employees' location data. It's not the most riveting idea of all time, but it's like the bank robber said: That's where the money is.
Startist This one's "a platform that brings creative people together to collaborate on projects ranging from film and the arts to games and technology, by allowing the showcasing and discovery of work," according to the program. You mean the bulletin board at the back of my local Panera might not be the best place to find a bassist for my Metallica cover band?
Suitey A "software-powered real estate brokerage changing the way people buy homes." Basically, they add a map-based interface to the equation, allowing brokers to throw their listings online and catch people's attention, thereby converting them with less in-person effort. This is already a pretty crowded market, though.
TheSquareFoot Speaking of real estate: Here's a platform devoted to the commercial business, connecting prospective tenants to landlords and other providers. Pretty straightforward, which is why the team is likely to have quite a bit of competition for the number-one spot in this market.
Vocalizelocal These guys deliver "marketing tools and services to local businesses that improve the way they manage their customer reviews, local directors, and mobile presence." That's a tough nut to crack.
Trendalytics Clearly we've used up most of the one-word domains, and now we're well into the age of the portmonteau. This startup purports to crunch a billion-plus "social signals" and so "identify patterns and empower individuals to make better, more data-driven merchandising and inventory decisions rather than relying on intuition alone." Now all they have to do is convince fashion types they don't want to rely on intuition alone.