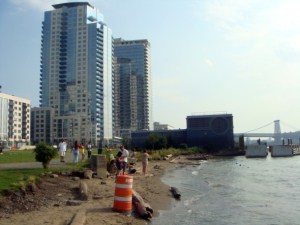 Poor Williamsburg. It's now suffering a terrible fate known to but a handful of pert prom queens and high school football hunks—it is not only possible to be popular, but to be too popular.
While many of the newcomers who have recently washed up on Williamsburg's luxury condo-strewn shores are no doubt aware that the neighborhood is "changing" and that that change is part of what makes it attractive to so many new, well-heeled residents—would they have been able to buy artisanal chutney there back in 2005?—they're apparently more than a little uncomfortable with the fact that it continues to, well, change. At least, they hate the construction, according to DNAinfo.
"It's annoying to be outside with a baby, it's loud and dusty," Northside Piers resident Vanessa Vellucci told DNAinfo.
She's not the only one. Other mothers complain about having to take their children to local cafes far from the construction noise to get in a decent nap. Bars might also be a good option—day drinkers tend toward quiet melancholy—if you can get out before the baby curfew kicks in.
Even nannies are complaining about the construction dust blowing into baby's faces and making them cry.
But most admit that irksome though all the racket may be, it's just part of living in a neighborhood that's basically being built from scatch—one SoulCycle gym and condo tower at a time. (Well, sometimes several at one time).
"I do love the neighborhood, and once it's done it'll be amazing," one woman told DNAinfo. "But I guess if you move here first, you have to go through the changes."
For the time being, they'll just have to grit their teeth, focus on rising real estate values and dream of the day when the only thing there will be to complain about is the unimaginative architecture.