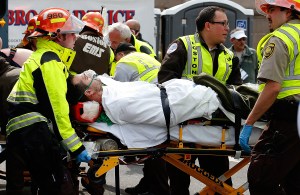 The Boston Marathon was interrupted this afternoon by multiple large explosions, killing at least two attendees and injuring dozens more, according to the Boston Police Department.
The New York Post is reporting that as many as a dozen have been killed, with fifty injured, but other outlets are currently more conservative in their estimates.
The three blasts, which took place near the marathon's finish line, occurred about four hours after the start of the men's race, according to The New York Times. The Associated Press reported that additional explosive devices were found near the event and are being dismantled.
"There were two bombs that exploded near the finish line in today's Boston Marathon," the organizing body behind the race said today on their Facebook page. Runners and spectators have been redirected from the blast area as law enforcement officials secured the scene.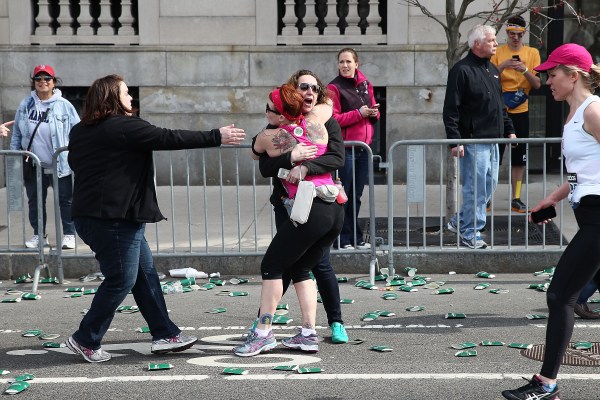 Initial accounts described the devastation as extremely serious. "It was huge. There had to be people killed. There had to be," a witness told the  The Boston Globe. Another said there was "blood everywhere."
Massachusetts Governor Deval Patrick issued a statement earlier today, urging people to stay away from the area.
"This is a horrific day in Boston. My thoughts and prayers are with those who have been injured. I have been in touch with the President, Mayor Menino and our public safety leaders," he said.
"Our focus is on making sure that the area around Copley Square is safe and secured. I am asking everyone to stay away from Copley Square and let the first responders do their jobs."
Steven Saurbier, who saw the explosion's aftermath from his window, described a grisly scene to The Observer.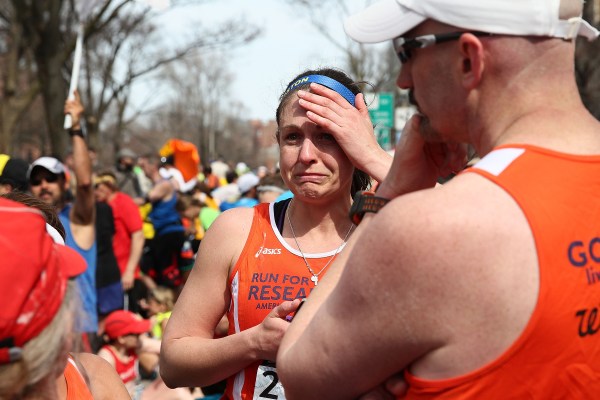 "It shook my building, we're about 100 yards down the street. I figured it was a cannon, or some giant confetti blast, or something planned for the Marathon. Then a second blast went off–much larger–and it rattled the whole building," he said.
"There was a large cloud of white smoke and people were running from the blast site. Police swarmed immediately, they removed one or two people after patting them down. There were a lot of injured people … I estimate 20 people were medically transported. … I saw a woman being carried by two men and I am almost positive her left leg was blown off at the knee."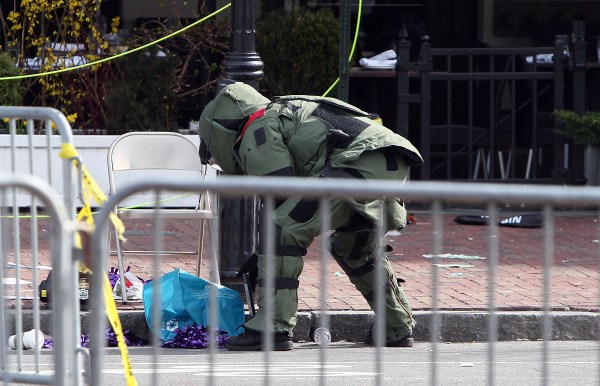 Mr. Saurbier further said it wasn't clear what had caused the initial explosion, but there was a "black crater" left on the sidewalk.
"The blast was on the sidewalk outside of a restaurant. It looks like there is a black crater about a meter radius," he continued. "There was no fire, no black smoke."
Photographs of police and other emergency personnel on the scene have already begun appearing on Twitter, organized by the hashtag #BostonMarathon.
This post will be updated as additional news arrives.
[youtube http://www.youtube.com/watch?v=-dBSilXsrKY]