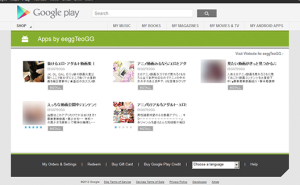 The golden rule of the Internet is simple: Never (ever) pay for porn. That premise, however, doesn't fully translate into Japanese. Symantec reports that more than 200 explicitly themed and fraudulent apps are suckering an unknown amount of users into shelling out up to $1,000 for porn.
About 50 developers are perpetrating this "one-click fraud campaign," Symantec reported yesterday. When people search for pornographic keywords, like "boobs," in the Google (GOOGL) Play store, the infected apps show up at the top of the search results. Once users download the app, it funnels them to porn sites, where the user is charged. The apps themselves have no other features.
The apps have been downloaded at least 5,000 times since January, when Symantec first noticed the trend. The speediness of the developers, who are constantly submitting the apps, has proven challenging.
It's also unclear how many people are paying for the apps, but Symantec pontificates that it "must be worth the time and effort" to keep doing this. At least someone is getting a happy ending here.