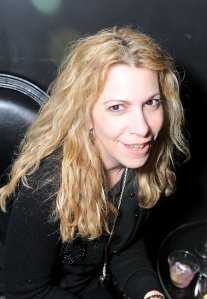 It isn't much of a relief, but fashion and beauty blogger PJ Gach, who recently took to the internet to try and raise the $7,739 in back rent she needs to pay her landlord to fend off eviction, now has until May 8 to pay up or move out.
When The Observer spoke with Ms. Gach this afternoon—she was heading out of housing court a day after her deadline to pay the back rent—she was cautiously optimistic about getting a few more days.
Ms. Gach's plight—which started when she was laid off as a senior editor from Betty Confidential in November and was unable to make her $1,759 rent payments in December, January and February—has earned her both sympathy and vitriol online (it's also earned her about $500 in donations, though there's little chance that she'll be able to summon the remaining $7,200 in the next week and a half.)
Ms. Gach said that after being turned down for a "one-shot emergency assistance grant" from the city's Human Resources Administration and failing to get any help from her local elected officials or rental-assistance charities, she did the only thing that an unemployed woman without family or significant savings could do—she took to Twitter and the blogosphere. The 21st century equivalent of rent party.
"I've been tweeting my heart out," Ms. Gach told The Observer. "But if worse comes to worse I have someone who will take my dog, then I'll be homeless. Homeless."
While Ms. Gach has unemployment of $369 a week from her former job and earned enough freelance income to cover her rent in both March and April, she's been unable to amass the stack of cash needed to pay off the back rent, which she said totaled $4,500 before legal and late fees tacked on by the landlord. She's lived in her rent-stabilized Morningside Heights two-bedroom for 13 years.
In the meantime, she also started her own fashion and beauty blog Queen of Style. She's also quick to point out that she's been assiduously hunting for a new job the whole time and appears to be making headway. She's been on a number of interviews, including one that got her a promising follow-up, but her hopes folded along with the publication, which announced it was shutting down two days later.
Much of problem, as Ms. Gach sees it, is that while her middle-class status didn't stop her from falling through the holes of the safety net, it has stopped her from receiving the help that she needs. When she visited the HRA office seeking the one-shot rental assistance grant, she claims that she was told, "you need to get money from your family and friends," an imperative that she said was repeated over and over again, along with "you don't need to be here." After explaining that her parents were dead and her friends unable to pay her considerable back rent, she said they accused her of lying. Ms. Gach—a petite blonde who wore what she described as low-key, preppy clothing to her application appointment—said that while she doesn't want to think that she was discriminated against because of her appearance, she's hard-pressed to understand why else HRA would be so insistent that she didn't need their help. (Ms. Gach describes the experience in more depth, as well as her attempts to seek help from her assemblyman and city councilmember on her blog.)
The HRA, when asked to comment on Ms. Gach's account of events, cited privacy law that prevented them from discussing or commenting on any details of individual applicants' cases.
"An individual applying for an one-time emergency grant must meet eligibility guidelines and comply with mandated appointments as part of the investigative review of his or her application," a spokeswoman wrote The Observer.
The specific income requirements and procedures used in awarding "one shot" deals are unclear, but according to the HRA website, it appears that each office has a great deal of discretion about how to award the grants: "The staff in each of the designated programs is able to evaluate the client's situation and determine the benefit. Since 'One Shots' are evaluated on a case-by-case basis, this information is not advertised."
Many online commentators have also been judging Ms. Gach based on her middle-class lifestyle and appearances. In particular, the fact that she lives alone in a two-bedroom. While Ms. Gach vowed to take on a roommate if she ever gets the back rent situation sorted out, she also defended her decision to live alone, citing the need to be "mentally healthy." Before she lost her job, she could afford the apartment, she said, and lived "very frugally" otherwise.
"They have all these cherries to help you if you fall behind in your rent. But as a single woman with no family, no one wants to deal with you," Ms. Gach concluded of her inability to get help from any of the charities or programs she applied to.
Ms. Gach's predicament may well serve as a lesson that given the unforgiving nature of New York's housing market, it's a  good idea to live beneath, rather than just within one's means, whenever possible. Of course, one of the problems with getting evicted from a rent-stabilized apartment is that the best way to economize is often to stay put.