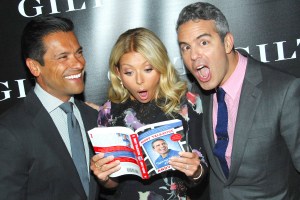 There was a horn of plenty for Shindigger last week, as invite upon invite boasted gastronomic splendors and choice libations—and none disappointed, from savory amuse-bouche at Monday night's after-party for Robert Redford's The Company You Keep to a lavish cornucopia at the AIPAD Photography Show's Wednesday night opening gala at the Park Avenue Armory. But the most mouthwatering night of all, Tuesday, was sandwiched in between.
The evening began at Food & Wine's Best Chefs event, as Shindigger embarked on a culinary adventure inside Pranna, the Flatiron District eatery. There, April Bloomfield of the Spotted Pig served haddock fritters with herbed spaetzle, parsnips and mint; WD-50's Wylie Dufresne offered popcorn soup with shrimp, jicama and tamarind; and Godiva tempted attendees with triple-threat dark-chocolate mousse.
Shindigger indulged foremost in a Santa Lucia Highlands pinot noir.
"Hello! It's so nice to see you," yelled celebrity chef Anne Burrell over DJ Harley Viera-Newton's dance beats. (Just the day before, we had seen Ms. Burrell cooking alongside Michelle Obama.)
Shindigger yearned to gobble more gourmet goodies with the other acclaimed chefs in attendance, like Angelo Sosa and Tom Colicchio, but we had another dinner engagement a few blocks away, and we had almost missed all of cocktail hour.
At the American whiskey bar and restaurant Maysville we found a jubilant Lucy Sykes and a handful of boozy men's magazine editors littering the bar area. What was the occasion? Gilt Groupe was hosting a rather intimate dinner in honor of Bravo's Andy Cohen, celebrating the recent release of his book, Most Talkative.
"What a lovely dress," Shindigger told Kelly Ripa of her blossomy silk frock.
"It's old. It's a little old thing. I like to recycle," she giggled, before telling us about a recent getaway she took with husband Mark Consuelos. "We were in the lower Grenadines. It was beautiful."
"We should sit down!" interrupted a bubbly but determined Mr. Cohen. (Cocktail hour was now approaching cocktail hour and a half.)
"He is the best," Ms. Ripa cooed of the evening's guest of honor. "I feel like we grew up with him, even though we were in different states and we never met. I'd work with him in a heartbeat."
But Shindigger had gotten distracted while Ms. Ripa sang Mr. Cohen's praises.
"What's the deal with the ceiling lighting?" we asked, looking up.
"This is the grid of wherever this is in Louisiana—no, Kentucky," Ms. Ripa corrected herself. "There is a town in Kentucky that this restaurant is named after."
"You've gotta sit down," an organizer snapped just then, whisking Ms. Ripa off to a leather booth.
"This will be a meal that I daresay will be amazing," began Gilt's VP of men's editorial and creative, Tyler Thoreson. (For starters, chef Kyle Knall had prepared several knockouts: a quinoa-spring vegetable salad and grilled quail with pigeon peas and cornbread croutons.)
Mr. Thoreson continued, "In some way, I think we're here tonight because a strange man grabbed me by the back of my collar late one evening at the Top of the Standard. That man is to my left, and his name is Andy Cohen. We were there celebrating the launch of Gilt Man."
"I had no idea what I was doing at that party!" the man of the hour screeched in his own defense.
"I would say the same if I was being accused of grabbing a strange person by the back of the collar at a crowded bar," Mr. Thoreson retorted, adding that, in spite of how the two men first met, their relationship has developed into a creative and commercial collaboration.
"The leftovers from tonight's dinner will be on sale at Gilt.com," joked Mr. Cohen, quoting one of his snarky tablemates as he took the floor from the Gilt exec. "Thank you, Tyler. I don't remember that night. Sometimes after my show I grab handsome strangers by the back of their necks."
"He seems like the gropey type," hissed one not-to-be-named fashion guru at our table. And then we dove into dinner: slow-roasted arctic char, duck breast and grilled rib eye cap with collard greens.
It was a southern feast that would have horrified even the most moderate dieter. Shindigger, unwilling to enter spring looking like a beached whale, "ducked" out before they served dessert and headed to our next affair.
"These things are too early," grumbled Judah Friedlander of 30 Rock as we exited the lift and sashayed into the ridiculous $14 million penthouse at 497 Greenwich Street for the Cinema Society after-party for Danny Boyle's latest film, Trance, starring Rosario Dawson, James McAvoy and Vincent Cassel. "I always miss the movie," Mr. Friedlander added.
"So do we," Shindigger confessed.
While the cuisine is rarely the best part of a movie premiere—that honor is generally awarded to the spirits—this event proved a marvelous exception. Shindigger, abandoning beach-body plans, devoured endless plates of Olivier Cheng Catering's vegan dim sum and noodles as we concluded our food fest.
For a nightcap, we repaired to the rooftop terrace with a glass of red and huddled with Mr. Cassel, looking out on the lit-up city skyline.
"The last time I stayed in New York for a while was when I was shooting Black Swan, but to me the city was really happening back in the days when I was young and used to live here," Mr. Cassel said in his cooler-than-cool French accent. "Back in the '80s, when there was Danceteria, I was crazy about New York."
It's true, that multistory nightclub has been shuttered for decades. But Mr. Cassel can have his nostalgia, we thought. We'll take the multicourse menus.