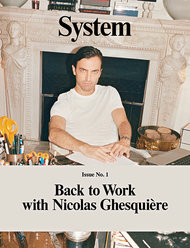 Looks like there is hope for the magazine industry after all–that is, if you have $100,000 to spend per issue of a start-up and some big socialite names (and money) behind the venture.
"Everybody thinks it's crazy to start a magazine today," Alexia Niedzielski told T magazine's Eric Wilson, who noted that Ms. Niedzilski is starting her third at the age of 30.
Ms. Niedzielski, who was featured in a 2009 Vanity Fair spread called "Fortune's Children" (as was our own publisher) is starting System, a  "deep-thoughts magazine about the fashion industry." She's teaming up with Elizabeth von Guttman,  her partner in her previous two insidery-fashion magazines Industrie and Ever Manifesto (which used the made up catchphrase "everlution" to describe the magazine).
"Collectively, the five-person editorial board represents the next generation of Annas, Graydons and Graces. Or so they hope," reports T. And who wouldn't?
But, according to the piece, the new magazine is being guest edited by W's senior fashion editor Marie-Amélie Sauvé, which has apparently irked the top brass over at Condé Nast.
The mission is to explore the milieu of fashion, like what happens when a star designer leaves a house, or when an e-commerce site overtakes a traditional retailer, more so than its products," the article said. Well, that sounds like a noble mission. And they certainly have the cash, considering that their publication schedule does not sound overly taxing.
The bi-annual magazine, which is set to launch in May, has a $100,000 per issue budget "pooled from consulting projects done by [Ms.] von Guttman and [Ms.] Niedzielski" and Ms. Niedzielski espressed her wish to have a second issue. Fortune's Children, indeed.