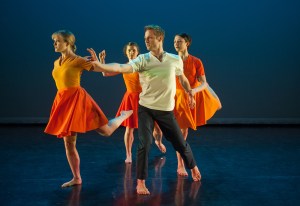 In the small theater on the fifth floor of his Dance Center across from BAM, Mark Morris is presenting a smorgasbord of four chamber pieces, three of them to live (and beautifully played) chamber music—and three of them new to New York.
The one we know, The Office, from 1994, is the most striking. Five plainly but handsomely dressed people are waiting in the anteroom of some bureaucratic office, waiting for … for what? One by one, they're summoned into an inner office by a stern functionary, not to be seen again. While the others wait their turns, they dance together in ingeniously differentiated stretches of Slavic-folk-inflected dance inspired by ravishing Dvorak bagatelles for two violins, cello and harmonium. Here Morris is totally at home, building suspense—Who will be summoned next?—while giving his dancers rich material to explore. The beautiful Maile Okamura dominates the scene with her lithe body and expansive movement. Faceless bureaucracy and anxious supplicants (or victims) are hardly original. (I kept thinking back to Gian-Carlo Menotti's The Consul, an opera that ran for eight months on Broadway in 1950 and won a Pulitzer. The heroine confronts the bureaucratic process: "What is your name?" "Magda Sorel." "Age?" "33.") But the somewhat gimmicky premise doesn't undercut the strength of what Morris shows us.
The second piece—the pièce de resistance, presumably—was A Wooden Tree, set to jaunty semi-cute snatches of song by the obscure (to us in Brooklyn) British songwriter Ivor Cutler. These are parodic ventures into a kind of folkiness very different from Dvorak's—they're a little Gertrude Stein, a little Edith Sitwell, a lot self-conscious: "Here's a Health for Simon," "Deedle, Deedle, I Pass," "I Love You but I Don't Know What I Mean," "Cockledoodledon't." Eight performers dance and prance around in workaday clothes, making little whimsical gestures and having a bang-up time. Maybe you have to be a Brit. The kicker is that one of the eight is Mikhail Baryshnikov, at 65 just one of the kids. He's hardly singled out, except by the eye of everyone in the theater—how can you not watch Baryshnikov as hard as you can, at any age and under any circumstances? He seemed to be having a good time—at moments you had the feeling that A Wooden Tree was just something Mark and Misha cooked up together as a lark. Morris throws in an energetic coda as an encore, and here's where Baryshnikov erupts. I wish it had been used as the legitimate finale of the piece itself, instead of as an extra—it might have pulled the whole thing together.
Then came a strong, passionate duet for Jenn Weddel and Spencer Ramirez called, in fact, Jenn and Spencer. (If a different couple performs it, does the name change?) Here the music is a suite for violin and piano by one of Morris's favorite composers, Henry Cowell, and it's a beauty—strong, tumultuous, resonant. Jenn is in a floor-length russet/mauve gown (at times I was afraid she was going to trip on the hem of its skirt). Spencer is in black pants and a formal white shirt with its sleeves rolled up. Something charged is happening. Is it high romance? Is it violent antagonism? She slaps him hard—it's antagonism, I guess—but it's clear that all is not over between them. This adult man/woman stuff is rare in the Morris canon, but he handles it elegantly, and Jenn and Spencer bring Jenn and Spencer to emotional life.
Finally: Crosswalk, a company piece—eight guys, three women. The engaging music is von Weber's "Grand Duo Concertant, for Clarinet and Piano," and the dance picks up on its rushing energy and high spirits. The three sporty gals are in orange—are they cheerleaders? The men are in white tee shirts. Are they athletes? They begin as if they're running races—on your mark! get set! go!—yet they become a community, if an unorthodox one. A woman in orange replaces one of the bloc of eight men, and the odd man out is swept up by the other two women—none too comfortably. The color-swapping is both unsettling and stimulating: it keeps the piece as a whole from seeming too familiar in its pushing, running, somersaulting vocabulary. As always with Morris, everything in Crosswalk is perfectly organized and proceeds like clockwork. Maybe a little too much like clockwork. But in a world where most choreographers just don't know how to put a piece together, we can only be grateful for his effortless mastery.
editorial@observer.com