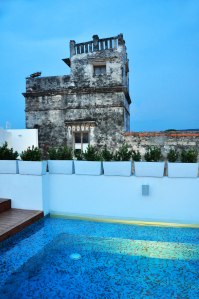 Recently, over a glass of red wine in the Four Seasons Restaurant at the Love Heals Gala, stylist Mary Alice Stephenson told us that her plan is to bounce around the country for her spring getaway.
"I'm heading to Tampa, which is such a glamorous, exciting place," she joked. The fashion maven is scheduled to join Donna Karan for a taping for the Home Shopping Network. "Then I'm heading out during Easter to go to Beaver Creek to go skiing with my boyfriend and then out to L.A. to shoot something."
Ms. Stephenson fancies a stay at the rustically opulent Ritz-Carlton Bachelor Gulch (ritzcarlton.com). Guests this season should be aware, however, of the resort's $15 million renovation, which will mean a few venue closings. We couldn't get much more in before Lucy Sykes, fashion director at Rent the Runway, butted in.
"I'm going to Jaipur, India, and Dubai!" she announced.
"Where do you stay in Jaipur?" NYO asked her.
"At the Rambagh Palace whole thing," she raved. "For some reason, my husband [Euan Rellie] was like, 'We're going to India and Dubai, and we're taking the kids.' So they're starting their medications tonight and that's that!"
We recommend she and her kin check into one of the Taj Hotels-owned property's splendiferous suites with views of the Mughal Terrace and the Maharaja's Garden. She better have already booked: a mid-March search showed blocks of the resort already sold out (tajhotels.com).
In fact, we too had been attempting a visit to India. Susan Shin had recently invited us to join His Highness Maharaja Gaj Singh II of Marwar-Jodhpur in the Blue City for his new philanthropic initiatives, the "One World Retreat" and the Indian Head Injury Foundation. We sadly couldn't attend.
The Sykes/Rellie clan aren't the only ones heading to the United Arab Emirates—designer Charlotte Ronson is planning a visit there as well.
"I'm thinking of possibly going to Dubai for fun," she told us at the after-party for the premiere of Oz the Great and Powerful. She said she had traveled there once before, this past November. For spring travelers in search of the high life, why not enter the desert playground, albeit one perhaps devoid of funky character and open debauchery. NYO suggests flying Emirates. If you can swing it, why not cough up the $20,436.70 for a round-trip, first-class private suite, boasting amenities such as five-star dining, an in-cabin shower and a lounge (emirates.com). Then it's straight to the tallest and most moderno accommodation, the Armani Hotel Dubai in the Burj Khalifa tower (dubai.armanihotels.com). Those looking for a better rate should seek out the racetrack-adjacent Meydan Hotel and its grand Shiba Bar (meydanhotels.com).