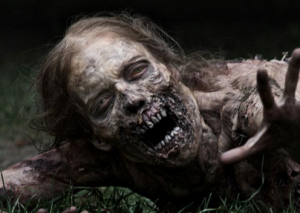 Soon, we'll all be glassholes. However, zombies are going to squeak by unscathed from that insult after a Google spokesperson confirmed last week that Glass isn't "quite ready for zombies yet."
The announcement was made on Google Plus, which also resembles a deserted town post-zombie apocalypse, from zombie/user named Deth Becomes You. Claiming that it (?) couldn't afford a pair of the wifi-connected devices, Deth asked for a complimentary pair because maybe "it will give good insight into the coming Zombie Apocalypse."
Obviously worth asking, but the Google Glass PR team didn't, ah, bite:
There are some unique challenges, such as the deterioration of the eyes and ears that zombies often experience. We know it's frustrating, and we hope to make Glass more widely available some day.
To which Deth responded "<insert zombie tear>." 
There's always the Nike FuelBand.