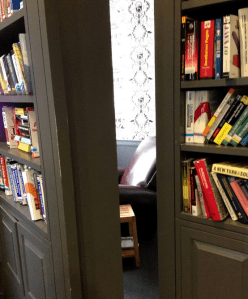 Google is well-known for its opulent work spaces and fantastic perks, which make everyone else feel like we're working in Soviet-era prisons.  Look at that spacious rooftop at Club Goog's New York office: it emanates so many chill waves that Washed Out could play an impromptu set at any moment.
And now there's something else that'll reignite that office envy: hidden rooms. Behind some bookcases at Google's offices in Chelsea, there are hidden doors that open into cozy nooks, which are adorned with comfy leather chairs (like a secret Barnes & Noble!).
iCrossing's Tarah Feinberg posted the creepshot on his Google Plus page (how appropriate!), captioning it "coolest thing ever."
We imagine the secret rooms are the perfect place to hide from your project manager.