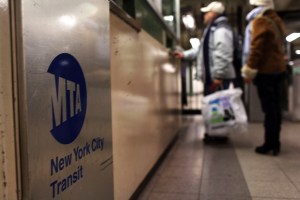 This afternoon, Governor Andrew Cuomo officially announced his pick to head the Metropolitan Transit Authority, left vacant over 100 days ago when then-Chairman Joe Lhota resigned to pursue a mayoral campaign: M.T.A. Interim Executive Director Tom Prendergast. And Mr. Lhota told Politicker he couldn't be more pleased with the selection.
"Tom Prendergast is a superb choice and he has a unique understanding of the system," Mr. Lhota proclaimed. "And I know of no one who cares more for the customers and the riders than Tom Prendergast. As chairman, I relied on him more than anyone and I think it's a great choice."
Mr. Cuomo, in a statement, was similarly effusive.
"The MTA plays a vital role in New York's economy and the daily lives of the millions of commuters who use its services," the governor said. "Tom has vast experience in infrastructure and transportation and has spent years managing commuter railroads as well as New York City's subways and buses. From the track bed to the budget to modernizing our system for the 21st Century, I can't imagine anyone having a better understanding of how the region's vast system operates and the challenges that it faces."
Mr. Prendergast, who still faces approval in the State Senate, was seen as the most likely candidate for the job and was touted by both transit advocates and the transport workers union as the top choice for the job. In particular, they pointed to Mr. Prendergast's management experience–he was president of M.T.A. New York City Transit for the three years, for example.
"The long overdue appointment of Thomas Prendergast as Chair of the Metropolitan Transportation Authority is encouraging news," Transportation Alternatives, a public transportation advocacy group, announced in a separate statement. "As the head of New York City Transit during the roll-out of Select Bus Service, Mr. Prendergast is particularly well-positioned to provide much-needed leadership in this area."
For his part, Mr. Prendergrast labeled the nomination "an incredible honor."
"It is an incredible honor to be nominated to lead the largest transportation network in North America, and to work with Governor Cuomo and his administration on the many challenges facing the MTA," he said in the statement released by the governor's office. "The MTA will improve the customer experience, operate more efficiently and build for the future. And we will aggressively rebuild smarter and better in the aftermath of Superstorm Sandy …. I look forward to working with the governor, his management team, the MTA Board and the 66,000 dedicated employees of the MTA family."