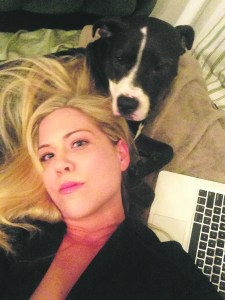 The first time The Observer met Mandy Stadtmiller at her Chelsea studio, the contents of her trash were strewn all over the floor. While Ms. Stadtmiller had been at a friend's art opening, Samsung, her rescued pit bull, had thwarted his owner's quickie attempt to clean up. Before we could examine the contents of the mess, Ms. Stadtmiller ushered us into the hallway to wait while she located a trash bag in a cabinet next to a pair of high heels and picked up the refuse.
Inside, her crystal collection sat on a shelf above a bin of bras. A couple of stuffed animals, inspirational sayings and books with titles like Use Your Body to Heal Your Mind decorated the room. A file cabinet served as a combination bedside and dining room table next to a double bed with a plush green velvet headboard.
"See, this is what happens when I try to clean up," said the Amazonian blond writer famous for revealing things that most people wouldn't confess to their best friends.
That Ms. Stadtmiller would try to hide anything at all might surprise readers of her work on xoJane, Jane Pratt's confessional website, where she has written about "hate-masturbating" to Paul Ryan and recording herself masturbating in the News Corp. bathroom for a potential suitor, and where she has crowd-sourced her search for both a gigolo and a fantasy to act out with him.
This past February, Ms. Stadtmiller and her colleagues detected a foul odor in the office, "forcing us to root around to try to find the dead mouse or rotting corpse that might lie somewhere buried," she explained. It turned out that the pungent odor was the result of a tampon that had been trapped inside the author for a month. Naturally, Ms. Stadtmiller wrote a post about the incident. Actually, two.
While she is hardly alone in her TMI tendencies, Ms. Stadtmiller has become a master of the medium during her tenure at xoJane, where she is tasked with writing a daily personal essay—no easy feat. Her boundless ability to plumb her personal humiliations for blog posts raises the question: what could possibly come next? Where does a writer who has confessed to stinking up the office with a rancid tampon find the next degradation to exploit?
"Her writing makes me cringe, because I don't get the sense that she's capable of editing herself or being at all self-aware," said a prominent female blogger. "It's addictive to read, but in the same way that it's addictive to watch Celebrity Rehab or the Real Housewives."
Ms. Stadtmiller embodies an exhibitionistic media moment in which writers, particularly women, often find that they get more attention when they traffic in self-revelation rather than straight reporting. What was once a central tenet of the women's movement has morphed into a no-holds-barred culture where nothing is off limits and everything is archived on the Internet.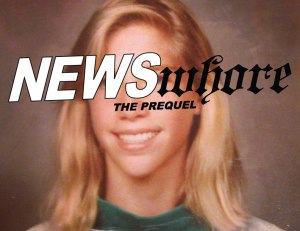 The art of the transgressive disclosure, as seen in Erica Jong's zipless fuck, Joyce Maynard's J.D. Salinger affair, Amy Sohn's blow-up boyfriend and even Lena Dunham's Tiny Furniture, has its roots in the consciousness-raising groups of the 1970s, in which simply talking about sexuality and gender roles was an act of liberation. But is all silence meant to be broken?
"The most interesting stuff that I do is when I come from my own honest, authentic voice rather than through the zombie magazine filter that a lot of copy gets put through," Ms. Stadtmiller said. "That's why Girls is successful. It's not impossible wish fulfillment, it's flawed and messy and embarrassing."
But there is a big difference between Girls and Ms. Stadtmiller's work. Ms. Dunham may get pilloried in the press for what every single line in an episode says about our culture, but it is worth remembering that even pantsless Hannah Horvath is a character. In real life, Ms. Dunham has been extremely selective about what she will and will not share about her personal life. Even former xoJane train wreck Cat Marnell, who just signed what is in publishing parlance a "major" book deal for a reported half-million dollars, has a deceptively controlled persona. Ms. Stadtmiller, on the other hand, doesn't hold anything back.
"Some people can't handle Mandy because she is so endlessly, unabashedly herself," said Sara Benincasa, Ms. Stadtmiller's friend and fellow comedy writer. "She doesn't hide embarrassing things about herself."