She was hired as an entertainment writer and eventually as a dating columnist at The New York Post, where Ms. Stadtmiller did not shy away from talking about herself. A casual newsroom encounter with her might result in a monologue about her upcoming comedy shows, or masturbating, or a "finger-banging" encounter of some sort.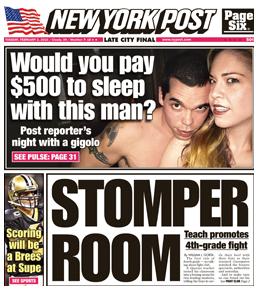 Her dating column, "About Last Night," made her a favorite Gawker punching bag back when the blog still had favorite New York media targets (the recurring slugline was "Oh Mandy").
But she was also a workhorse who could turn copy around quickly. "Mandy would act bipolar. Sometimes she was so warm and would say 'great to see you,' and other days she'd walk past you like a zombie," said a former Post colleague. "She was really hardworking and very talented—but very damaged."
She made it onto the Post's front page by going to a Nevada brothel to bed America's first legal male hooker, but wound up making fun of him instead as he invited her to caress him, told her he wanted to be spanked and lavished praise on her naked body. (Documenting other people's pleased reactions to her nudity and prowess is another branch of Ms. Stadmiller's exhibitionism, one that would seem at odds with her willingness to project herself as sexually repulsive.) "It was like a bad second date. That cost $500," she wrote.
The piece was a boon to her career, garnering attention on The Colbert Report and elsewhere. At the Post, some colleagues felt that she had exploited her subject, a 23-year-old ex-Marine who came across as earnest in his efforts to please, only to be mocked in print by the author in a Page 1
tabloid story. It was unclear whether he knew he was being written about. "We all died a little death when she went out and did that story," said a former Post colleague. "We felt that if it is the future of journalism, get us out of here."
She quit The New York Post in February 2012, when she said the culture of the features department changed and started taking on the "toxic" news mentality of the tabloid.
After the Post, Ms. Stadtmiller bounced between sublets and friends' couches before landing at xoJane, a confessional web magazine whose writers are encouraged to share details of their lives. The magazine, founded by Jane Pratt, the editor of the much loved '90s alt-beauty magazines Sassy and Jane, is a catalog of "It Happened to Me" testimonials about waxing, STDs, miscarriages, menstrual cups and, of course, orgasms. Ms. Stadtmiller was instantly at home.
To be fair, not all of her own posts revel in humiliation. As background for this piece, she sent links to 30 stories; sobriety, self-esteem and advice culled from personal experience were common themes. She has also mined her parents' marriage; her mother left her fiancé to marry a marine vet who was blinded during combat in Vietnam. In an almost Parent Trap-like plot twist, her parents got divorced when Ms. Stadtmiller was in her 20s and then remarried five years later.
She wrote about adopting her dog, and penned an open letter to Lindsay Lohan encouraging the actress to get sober—like she herself has done. There is a new-agey, self-help quality to a lot of her posts, something that seems to resonate with xoJane readers, who lavish her with praise, thank-you notes and drawings.
"Thank you for helping me see myself as a player" read the subject line of an email Ms. Stadtmiller got in response to a recent post.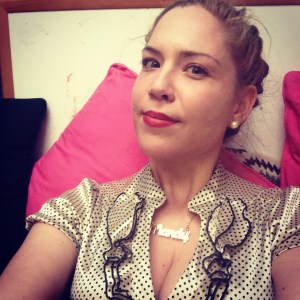 "I felt like you were talking directly to me," the college-age reader continued. "I just can't believe how much I relate to you and how similarly I feel."
Colleagues at xoJane say she's a generous editor. "What I don't think Mandy gets enough credit for is her extreme generosity with other writers. She will break it down for you: 'Here's who to email with your pitch, here's the exact word count you should use in that email … here's the time of day you should send it. Here's how to follow up without being a little bitch,'" the writer and comedian Carrie Seim told us. "There's a sincerity and nurturing quality—she's genuinely thrilled when you succeed—that you rarely find in the brutally competitive New York media world."
Ms. Stadtmiller does have an ethical code of sorts. She doesn't write too much about her ex-husband, for example, a musician who likes to keep his Internet footprint minimal. She also insists that she filters out information that might compromise others, a practice she arguably did not deploy in her encounter with the prostitute, nor in her regular dispatches about sobriety. "I get shit sometimes for breaking the tradition of AA where you don't reveal you are in it," Ms. Stadtmiller writes. Anonymity isn't really her thing.