In between xoJane posts, Ms. Stadtmiller is currently working on a roman à clef called News Whore, about her time at the Post. She expects to finish the book by the end of the year and start submitting it to publishers, although a self-published eBook prequel, a "compendium of blog posts" from the last eight years, will be available for download this month. The prequel, along with her podcast, is part of her effort to make the "News Whore" label into a brand.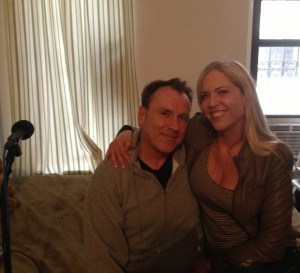 Unsurprisingly for someone so concerned with branding, Ms. Stadtmiller is a tenacious profile subject. Within a 15-minute time frame on a recent Saturday, we received 10 text messages from her.
Following a prolonged back-and-forth to arrange details, we found ourselves back at Ms. Stadtmiller's apartment. But this time, it had been transformed into a sound studio for her debut podcast. The bras were gone, replaced by microphones. The comedian Colin Quinn, whom Ms. Stadtmiller knows from the comedy world, sat in the upholstered armchair. Graham Smith, a musician friend, was on hand to help with the audio and chime in. Samsung was off in the park with a dog walker.
Ms. Stadtmiller, in sneakers, ripped jeans and a striped shirt, smoked an e-cig (she is an occasional vaper) and showed Mr. Quinn a childhood photo album. They bantered and traded barbs. Ms. Stadtmiller mentioned the summer that two different masseurs "ate her out" and volunteered that she has been listening to a tape of motivational speaker Louise Hay's positive affirmations while masturbating.
"What's my verbal tic?" Ms. Stadtmiller asked.
"Talking about sex," Mr. Quinn replied.
"I don't appreciate that," she said. "And I don't think it's true."