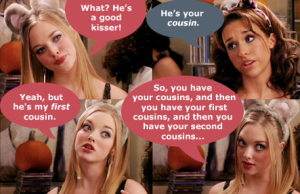 Don't you just hate it when you're at a party and start making out with a cute guy or girl, only to later discover at a family picnic that they're actually your cousin? As it turns out, accidentally hooking up with a relative happens so frequently in Iceland that there is an official database, called Íslendingabók or "The Book of Icelanders," that traces the family lineage of 720,000 Icelandic citizens.
Three engineers have taken it upon themselves to digitize the book, creating an app that helps prevent Icelanders from accidentally sleeping with their extended family. If you meet a hottie out at a party, you can simply bump your phones together to find out whether or not you're related. The tagline for this helpful app? "Bump the app before you bump in bed."
Users are pretty excited for the app, called ÍslendingaApp, to hit the Google Play store. "If I would have had this app last year I probably wouldn't have gone home with my cousin," wrote one.
Probably?