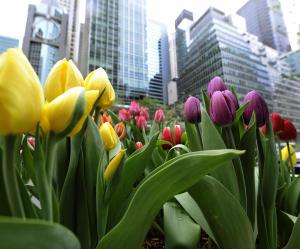 In case your head has been buried in some windowless basement apartment during this endless winter, New York real estate is back. And blooming.
Despite being real estate's slow season, fourth-quarter sales in 2012 exploded, a fact that real estate professionals attribute to low inventory and low-interest financing. According to Crain's, sales spiked 29.2 percent in the fourth quarter, compared with the previous year.
The number of brokers in the city is once again on the rise as well. The Real Deal reports a 2.5 percent increase in 2012, to a total of 12,384 brokers peddling New York real estate. And there are more brokers in the pipeline. Last year, there was a 24 percent rise in the number of people taking the broker's licensing exam.
The new year seems to have ushered in a new era of confidence in the industry. The Real Estate Board of New York reported in February that broker confidence levels were higher in January 2013 than they were in any month in 2012. The Broker Confidence Index is calculated on a scale of zero to 10, with 5 being neutral. In January, the overall confidence level for residential and commercial brokers surveyed was 8.8.
More positive numbers: According to Trulia.com, the average price per square foot in New York increased 12 percent from this time last year, to $1,370.
The boom is not limited to Manhattan, though. The borough of Brooklyn is looking at major residential construction in the next few years, many of them rentals. And units for sale in desirable neighborhoods like Brooklyn Heights, Cobble Hill, Carroll Gardens, Williamsburg and Dumbo are selling for Manhattan-like prices. Land is still 65 percent cheaper in Brooklyn than Manhattan, according to the Real Deal, which helps explain why developers are headed there.
With all the optimism in the air, established brokerage houses are opening new offices and new firms are springing up. Here, in alphabetical order, is a look at what's in store for some of the area's top real estate brokerages—and for some upstarts, too.