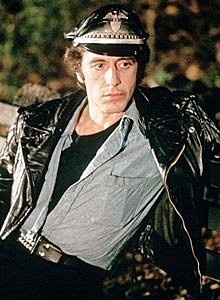 If you're like me, you've spent many a sleepless night wondering what Al Pacino thinks of Julian Schnabel. Maybe you've even imagined Al Pacino doing a Julian Schnabel impression and vice versa. No? Well, humble reader, behold the answer to your (my) prayers! Below is a video of Al Pacino talking about Julian Schnabel. Saying hello to his little friend, if you will.
In terms of my twisted psyche, things get pretty literal here, folks. Take it away, Pac-Man:
"I thought he was great, I thought he was funny…He did a lot of imitations of me from Scarface, which I thought was—he did them quite well actually. He had fervor. Like everything else, he did them with commitment and energy. He didn't care about the results."
Mr. Pacino will be hosting Creative Time's truly awesome-sounding spring gala in honor of Mr. Schnabel on April 30. It will take place at the Domino Sugar Factory in Williamsburg and there will be a meal designed by Mario Batali. Laurie Anderson will also perform.
Here's the video, courtesy Creative Time (get a load of that dulcet acoustic guitar backing track!):
[vimeo http://www.vimeo.com/63663413 w=400&h=300]
And, for your edification, here's a montage of Al Pacino yelling:
[vimeo 62591294 w=500 h=281]