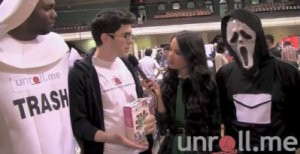 If New York Tech Day event co-founder John Peterson had to summarize his event in one word, it would be "massive." And it sounds like he's not exaggerating, given these stats: there will be 400 startups sprawling across 75,000 square feet that will be judged, scrutinized and questioned by nearly 10,000 attendees.
That's a big jump in space and number of attendees from last year, an excited Mr. Peterson told Betabeat by phone. The event sprouted from an idea conceived by his business partner Alec Hartman, who decided that there should be a business expo designed specifically for startups. "It came to the point we had to do it," he said.
Last year's event was about half the size, but big and successful enough to warrant a second run. Mr. Petersen said Thursday's event will be better organized thanks to the introduction of sections around the companies' focuses (i.e. hardware, fashion), incubators/accelerators (like TechStars), and coworking spaces.
Attendees of the free event will consist of three groups: talent for the companies to recruit from, the press, and investors ranging from angels investors to venture capitalists. Mr. Petersen encourages the startups, which are charged a $485 fee to attend, to use the day as a learning experience.
For many companies, this is their first (and presumably daunting) opportunity to pitch the product in front of the public. It's the optimal place to receive validation and feedback from event-goers, said Mr. Petersen, who suggests that the companies "bring their A-game" and, if necessary, employ theatrics. He said that last year, a startup named Unroll.me replaced the toilet paper with branded toilet paper, while another company strung up balloons 50 feet into the air.
"We really want to make sure our exhibitors have unlimited ability to be as creative as they want," exclaimed Mr. Peterson.
"We're giving the resources the startups need to grow," added Mr. Petersen. "One of the great things we can do at this event is keep it as open to the community as possible. We want as many people to come through and see what's happening in the tech scene."