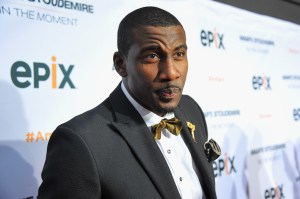 When Amar'e Stoudemire took the stage after the screening of his new documentary, In The Moment, last Thursday night at Marquee, he genuinely seemed to appreciate the attention and applause that greeted him from the packed house of athletes, musicians, fashion designers and more than a few men in yarmulkes.
It was less than 24 hours after the New York Knicks had closed out their best regular season in 16 years (having captured the Atlantic Division crown and the Eastern Conference's No. 2 seed), and a near-starting lineup, including Carmelo Anthony, Tyson Chandler, Iman Shumpert and Chris Copeland, had turned out to fete their oft-injured teammate—a rare bright spot in what has been yet another snake-bitten season for Mr. Stoudemire.
Not that he looked particularly unhealthy on this night. Mr. Stoudemire was red-carpet sharp in a fitted black sport coat, a camouflage bow tie and some sort of gold boutonnière—an ensemble he might have the chance to reprise in the coming weeks. (His latest setback, a knee debridement, has all but ensured that the six-time All Star will miss the team's first-round matchup against the Boston Celtics.)
"Oh, we're definitely going to get out of the first round," Mr. Stoudemire said in a conversation with Stephen A. Smith following the film, which gives fans an intimate look at both his troubled family history—his father, Hazell, died when he was 12; his mother, Carrie, spent years in and out of prison; his older brother, Hazell Jr., was killed in a car wreck last year—and the former first-round pick's journey from impoverished high school prodigy to Rookie of the Year to New York Knicks savior.
And lest fans forget—as many seem to have—that's exactly what he was, signing with the organization in 2010 when other superstars, like LeBron James, snubbed the city's bright lights for Miami's sun-stroked beaches.
"I wanted to accept the challenge and revitalize a team that needed help," Mr. Stoudemire recalled.
In his first season with the Knicks, the man known as "STAT" set a franchise mark with nine consecutive 30-point games while leading the team to its best start since the 1996-1997 season. He earned "M-V-P" chants from the Garden faithful. Vogue put him on its cover and called him a "basketball deity." The New York Post wrote, "Carrie Stoudemire has given birth to New York's basketball messiah." (In the documentary, Ms. Stoudemire admits to having tried to abort her "billion-dollar baby.")
Still, the high-flying forward was not immortal. Mr. Stoudemire matched a career high in minutes per game that first season, as then-Knicks head coach Mike D'Antoni demanded too much of the team's fragile new superstar—a player whose contract was literally uninsurable. (Coach D'Antoni has come under similar criticism this season for overtaxing Lakers star Kobe Bryant, who recently ruptured his Achilles tendon.)
By the time the Knicks shipped nearly half their roster to Denver in exchange for Carmelo Anthony, the team was relevant again, but the minutes had added up. Injuries returned, and the spotlight instantly shifted from Amar'e to Melo.
Last May, when Mr. Stoudemire injured himself for the second straight postseason, the goodwill was all but gone. ESPN New York columnist Ian O'Connor wrote of Mr. Stoudemire, "He should be thanked for the pre-Melo memories, and sent on his way." And in the months that followed, the Knicks reportedly shopped him to every team in the league, making him "available for free."
The business of sports can of course be heartless, but such treatment seemed especially cold. This, after all, was the man who signed with the Knicks when no one else would, who once again validated New York as a destination for star players after so many failed arrivals, who gave his heart and soul—and yes, his knees—to a city so that its team could thrive.
And thrive it has … even without him. Carmelo Anthony is playing MVP-caliber basketball, and the Knicks are poised for their first legitimate playoff run since 2000. But Mr. Stoudemire is not bitter. He continues to train hard. When healthy, he has embraced a role off the bench (his style of play and Melo's were never meant to mesh). And unlike the city whose team he saved, he remains grateful—because he remembers what those lean years growing up were like.
"The thanks is always there," he said. "Even if you're in hard times, as I am now with the injury, I still give thanks. And it helps. What food is to the body, prayer is to the soul."
And as a Knicks fan who remembers those lean years of Isiah Thomas and Stephon Marbury, the Transom says: amen.